LUCID Newsletter 2019 Issue #8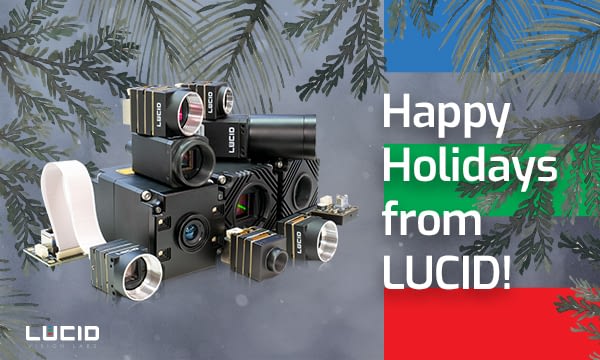 HAPPY HOLIDAYS FROM LUCID!
On behalf of the entire team, our sincerest thanks for your support throughout this year! 2019 has been a great year for LUCID – we've had tremendous growth in sales, expanded our camera portfolio across all product families, introduced new technologies, welcomed new staff and reached significant company milestones. Below is a brief recap of 2019.



Our warmest wishes for the Holiday Season and the New Year!

Holiday Office Closure
Please note that our office will be closed from Dec 24th to Jan 1st, 2020. Any webstore orders placed during this time will be processed in the new year.
2019 Year-End Product Review
PHOENIX
Designed for easy OEM integration, the Phoenix 24x24 mm camera can be configured into different shapes for the ultimate custom fit. This year we've added the 180° & 90° transform kits, as well as the FFC connector to offer additional flexibility. Learn more.

TRITON
We've added 9 different sensors to the Triton camera family ranging from 0.4 to 20 MP. New additions included the 3rd gen Sony Pregius IMX429 and IMX428, as well as the Triton line scan camera featuring the 2K AMS Dragster DR-2k-7 sensor. Learn more.

ATLAS
The 5GBASE-T PoE Atlas camera line went into production earlier this year. Now we're shipping 8 different Atlas models ranging from 2.8 to 31.4 MP. At ITE this month, we introduced our first Atlas10 camera featuring the 4th gen Sony Pregius S IMX530 over 10GBASE-T PoE. Learn more.
HELIOS
We launched the Helios Time of Flight camera featuring Sony's DepthSense IMX556 back-illuminated ToF sensor. Helios provides superior depth precision and was recognized with a "gold-level" award by Vision Systems Design Innovators Award program this year. Learn more.

Arena SDK Numerous Arena SDK versions have been released this year including ARM, Python, OpenCV for Windows and Linux. In addition, new software visualization tools have been implemented with enhanced polarization features as well as a new Time-of-Flight ArenaView GUI to show intensity and depth range in either 2D or a 3D point cloud view. Learn more.

AWARDS
LUCID won two VSD Innovators Awards this year! We received a Gold-Level award for our Helios 3D ToF camera in the 3D Camera category, and a Bronze-Level award for our 5GBASE-T Atlas camera in the Visible Cameras category." Learn more.
ITE 2019 Product Highlights
Watch Our Video!

Earlier this month we wrapped up a very successful ITE show in Yokohama, Japan. We've introduced the new Atlas10 featuring the 4th generation Sony Pregius S IMX530 sensor over 10 GBASE-T PoE and the 2K Triton line scan camera offering IP67 protection in a compact 29x29mm size. If you were not able to attend, here a quick video summary of our product highlights. Watch video!
Did You Know?
| | |
| --- | --- |
| | Did you know that LUCID employees come from 15 different countries? Although we may still be a small team, 25% of our staff comes from different backgrounds other than Canada where our headquarter is located. This brings diversity and unique perspectives to our workplace and culture. Here the various countries our employees are from: Canada, China, Fiji, Germany, India, Israel, Japan, Korea, Libya, Philippines, Russia, Vietnam, UK, Ukraine, and USA. |
Event Updates
SPIE Photonics West
LUCID will be exhibiting at SPIE Photonics West from Feb 4-6, 2020 in San Francisco. See our latest GigE Vision 2D and 3D cameras in booth #3164. Read more.

Automation World
LUCID will be exhibiting at Automation World from March 4-6, 2020 in Seoul, Korea. See the latest technology in smart factory applications, robotics, factory automation, IoT and embedded. Read more.

Vision China Shanghai
Come and see LUCID from March 18-20, 2020 at Vision China Shanghai, the no. 1 machine vision show in China. We will showcase new camera technologies in booth #5502. Read more.

Webstore Orders Made Easy. LUCID offers the convenience of a webstore to easily purchase our full line of cameras and accessories from the Canada, USA, Australia, New Zealand, Israel, and EU. A future expansion of our webstore is planned to other countries as well. Stay tuned! Visit Our Webstore.