LUCID Newsletter 2022 Issue #2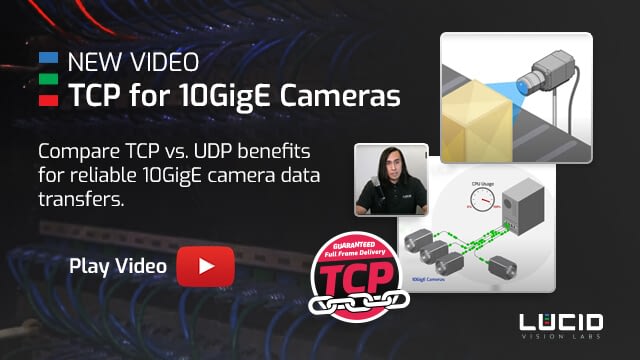 New Video: TCP for Reliable Image Transfer with 10GigE Cameras
LUCID has recently added the capability to transfer images using the Transmission Control Protocol (TCP) to the Atlas10 10GigE camera. While both TCP and the current UDP protocol have a similar function, there are significant differences on how data is handled. This video will explain the benefits of TCP in a multiple camera 10GigE system, and how TCP can take advantage of hardware features built into the network interface card while guaranteeing full frame delivery.


Product Updates
Atlas10 ATX245S Model with C-Mount

The Atlas10 24.5 MP 10GigE camera model featuring the IMX530 CMOS sensor will soon be available as a C-mount version in addition to the existing TFL-mount version. The C-mount model enables a broader selection of lenses compatible with a 4/3" type sensor. Coming soon!
Phoenix Pregius S Models in Production

Phoenix models including the Sony 4th Gen Pregius S IMX565 12.3 MP, IMX566 8.1 MP, and IMX568 5.0 MP sensors are now in production. The Phoenix is a camera module offering maximum flexibility with multiple orientations, lens mount options, and connector types, designed for easy OEM integration.
Resource Updates
Quick Video: IMX490 for Welding Applications

While the Sony IMX490 HDR sensor is primarily designed for automotive applications such as ADAS and autonomous driving, it is also beneficial for industrial applications such as welding inspection. See how the Triton TRI054S 5.4 MP IP67 camera provides 120 dB HDR for imaging in extreme light and dark scenes.
Tech Brief: IMX490 HDR Sensor

Take an in-depth look at Sony's 5.4 MP IMX490 sensor, featuring a unique sub-pixel technology that provides on-sensor HDR processing and LED flicker mitigation. Compare the IMX490 to traditional HDR methods and explore the benefits of the sensor's pixel structure.
New App Note: Helios2 & Triton Sync

LUCID's IP67 Helios2 + 3D RGB Kit allows users to capture 3D point clouds with color overlay by combining LUCID's Helios2 and 3.2 MP Triton cameras. This App Note provides step-by-step instructions for easy synchronization of the cameras.
Event Updates
Webinar - Embedded Vision

March 1, 2022 - This webinar will present LUCID's Triton Edge camera featuring Xilinx's Zynq UltraScale+™ MPSoC, which provides a new level of on-camera performance and flexibility without sacrificing power efficiency, sensor performance, or camera size.
Webinar - From SWIR to Hyperspectral

March 22, 2022 - Learn about the advantages of different multi & hyperspectral imaging products, systems, and their applications. LUCID will discuss SWIR technology and our own Atlas SWIR IP67 Camera.
MODEX 2022 Show Preview

March 28-31, Atlanta USA – LUCID will be exhibiting at MODEX 2022 for the first time, the premier manufacturing and supply chain trade show in the US. Read about our product highlights in our show preview, and visit us in booth #C8198!
| | |
| --- | --- |
| | Follow us on Linkedin and Youtube for more of the latest updates on technological innovations & resources by the LUCID Vision Labs team. |
| | |
| --- | --- |
| | Webstore Orders Made Easy. LUCID offers the convenience of a webstore to easily purchase our full line of cameras and accessories from the US, Canada, EU, Australia, and New Zealand. A future expansion of our webstore is planned to other countries as well. Stay tuned! Visit Our Webstore. |