10GigE Ultraviolet (UV) Industrial Camera
The Atlas10 UV 10GigE (10GBASE-T) PoE+ camera, featuring the high-sensitivity Sony UV 8.1 MP IMX487 sensor, is capable of capturing images across the ultraviolet (UV) light spectrum range (200 to 400nm). Utilizing Pregius S back-illuminated sensor technology the camera's high sensitivity of the 200 to 400nm range opens up a world of industrial applications with greater precision in transparent materials (plastic and PET), semiconductor inspection, material sorting and more.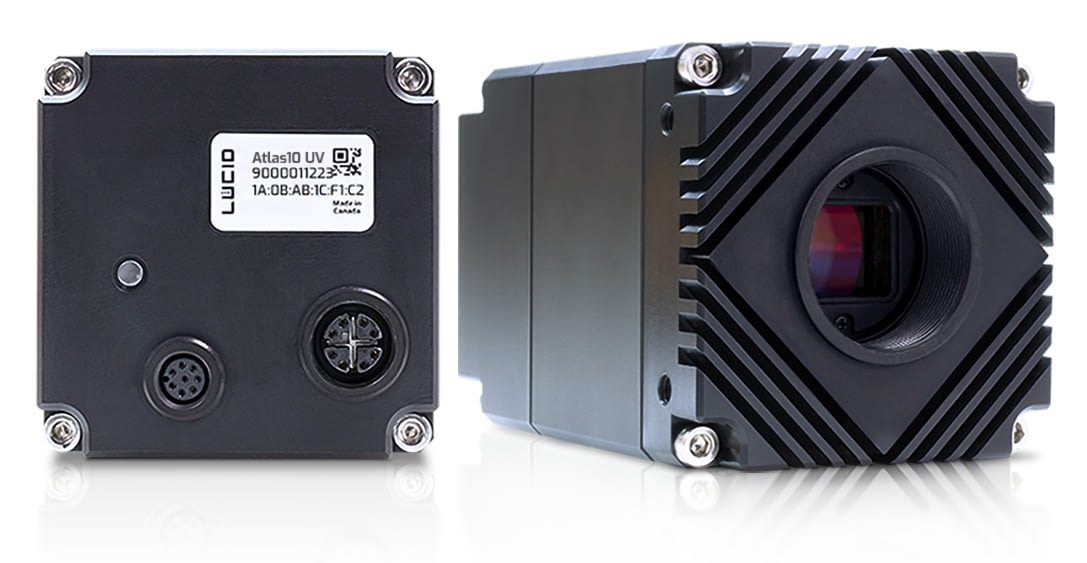 For an in-depth look at model specifications please click the part number below.
| Model | MP | Resolution | FPS | Sensor | Format | Pixel Size | Shutter | Lens Mount | Chroma | Interface |
| --- | --- | --- | --- | --- | --- | --- | --- | --- | --- | --- |
| ATX081S-UC | 8.1 MP | 2840 x 2840 px | 136.8 fps | Sony IMX487 CMOS | 2/3″ | 2.74 µm | Global | C-Mount | Mono (UV + VIS) | 10GBASE-T, M12 |
Industrial Features + High UV Sensitivity
The Atlas10 UV is packed with industrial features designed to provide high speed and reliable operation in challenging environments along with excellent sensitivity in the UV 200-400nm range. Sony's IMX487 CMOS sensor utilizes Pregius S back-illuminated pixel structure which moves the wiring layer behind the photodiode, allowing for increased sensitivity. This helps improve quantum efficiency, dynamic range, and lower noise. Combined with the camera's industrial features, the Atlas10 UV provides high quality imaging for your advanced sensing application.
Stream 1.2 GB/s Over CAT6a
Power Over Ethernet (PoE+)
Active Sensor Alignment

Robust M12 and M8 Connectors
Quantum Efficiency (@ 300nm)
47.5%
Absolute Sensitivity Threshold
5.67 γ
Quantum Efficiency (Hover over the dots to show QE %)
Design for UV
UV transmittance quartz glass for cover glass.
UV transmissive material used for micro-lens.
Specially designed photodiode for UV.
Pregius S pixel structure for overall increased sensitivity.
The Atlas10 UV camera can be used during the semiconductor manufacturing processes. Because UV light is a shorter wavelength than visible light, the camera can detect minute flaws in increasingly smaller circuits. It can be used to find polish marks, crystalline pits, terracing, voids or other defects in wafers.
Transparent materials such as plastics and glass can benefit greatly from UV camera inspection. Acrylic resin (PMMA) and polystyrene (PS) react differently to UV light.  The Atlas10 can be used to identify different transparent materials through different UV transmittance and allow for automated sorting in facilities such as recycling plants.
Ultraviolet radiation can be discharged by deteriorated parts in electric power infrastructure. Using UV sensing can help detect and locate failing or damaged parts in high-voltage transmission lines and in other electrical utilities.