LUCID Newsletter 2023 Issue #6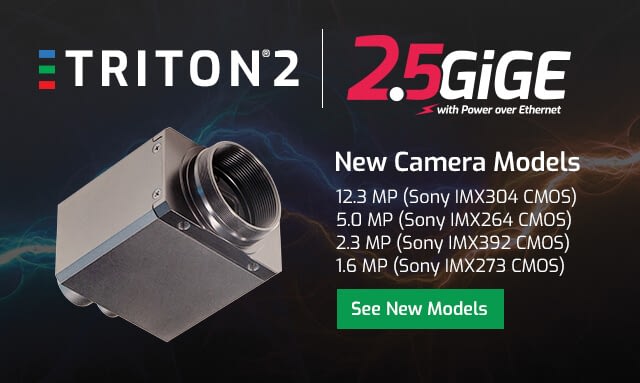 Upcoming Models for Triton2 – 2.5GigE Camera
Our Triton2 - 2.5GigE camera family keeps growing. We've got more models on the way featuring Sony Pregius CMOS sensors. The Triton2 is a Factory Tough™, IP67 industrial camera that offers unprecedented performance with a 2.5GigE (300 MB/s) interface, enabling higher bandwidth than 1GigE cameras without compromising on size, thermal management, or Power over Ethernet (PoE) support. Upgrade your 1GigE cameras to 2.5GigE easily and enjoy the perfect balance between performance, form factor, and cost. See New Models!

Resource Updates
Quick Video: CVPR Show Recap

Check out our quick video montage showing LUCID products and demos at CVPR 2023 in Vancouver, BC! Play video.
New Case Study: Wood Surface Inspection

Learn about a new, high-speed machine vision system that can find hard-to-see defects and imperfections on the surface of wooden boards. The imaging system uses LUCID's Triton cameras featuring 5 MP Sony Pregius IMX264 sensors. Read Case Study.
New Article: Heat Management for LUCID Cameras

This Knowledge Base article discusses how to manage heat in LUCID cameras and common misunderstandings about camera heat, operating temperature, and power consumption. Includes examples featuring Phoenix and Triton cameras. Read Article.
Did You Know?
Phoenix Camera Customization

Did you know that we can customize our Phoenix transformable cameras? Our team can help with simple or complex camera customization for your unique application. Contact us for more information.
Upcoming Events
Vision China Shanghai

July 11–14, Shanghai, China — We'll be showcasing our latest cameras, including our VSD Platinum Award winning Atlas10 camera with RDMA, and the Silver Award winning Helios2 Wide ToF camera. Visit us in Booth #5.1C201.
Vision Spectra Conference 2023

July 19, 10:20 EDT, Online Presentation — Join us online at the annual Vision Spectra Conference for a presentation, "RDMA Technology for High-Speed Cameras Provides Optimal Image Transfer Over 10GigE." Registration is free!
Automation Taipei 2023

August 23–26, Taipei, Taiwan — LUCID will be exhibiting our GigE camera technologies in Taipei. Visit our Booth #L308 to see our latest cameras.
Popular Resources
You May Have Missed
➤ Sneak Peak Video: Atlas10 + RDMA Camera Demo in Action

➤ Video: LUCID's AltaView™ On-Camera Tone Mapping Explained

➤ Video: Advanced Sensing With LUCID's SWIR and UV Cameras

☰ White Paper: Remote Direct Memory Access (RDMA) With Atlas10 Cameras

☰ New Case Study: Robot Gripper Uses the Helios2 3D Camera


| | |
| --- | --- |
| | Follow us on LinkedIn and YouTube for more updates on our technological innovations and useful resources. |