LUCID Newsletter 2023 Issue #2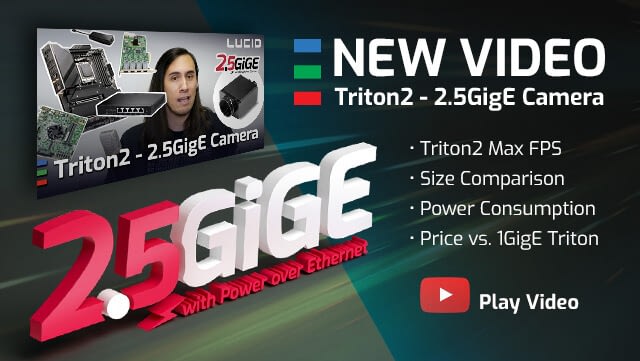 New Video: Triton®2 – 2.5GigE Camera
Check out our latest video that reviews 2.5Gigabit Ethernet technology and our new Triton2 – 2.5GigE IP67 camera. We cover the key features of Triton2 and the benefits of upgrading from 1GigE or USB3. In addition, we provide a frame rate comparison with 1GigE, and look at power consumption, operating temperature, unit testing, and pricing of Triton2 cameras. Play video!

Company Update
Easy Online Purchasing — Our Popular Cameras are in Stock!

LUCID continues to provide fast and easy online purchasing through our webstore. Our popular machine vision cameras are in stock and ready to ship out within a few days. For backorder cameras, units are built to order quickly and ship with a short lead time.Visit our webstore.
Product Update
Triton SWIR Versus Atlas SWIR Cameras

What's the difference between our Triton SWIR and Atlas SWIR cameras? We created some useful resources to help you decide which camera is right for your vision application, including a comparison chart and video. Learn more.
Arena ARM & Windows Updates

A new Arena SDK version is available that supports ARM ubuntu 18.04/20.04/22.04 (64-bit), for use with all LUCID camera models. In addition, a new version of Arena for Windows is available featuring JupyterLab in ArenaView. Visit Downloads Hub.
More IP67 Amphenol M12 & M8 Cables Available

We've expanded our cable portfolio to offer more choices including the newly added IP67 M12-RJ45 and M8-Open GPIO straight cables from Amphenol ranging from 1–15 meters. See cables.
Upcoming Events
Smart Factory + Automation World

March 8–10, Seoul, Korea — We'll be exhibiting in Seoul this year at Smart Factory + Automation World. Visit our Booth #B212 for live demos of some of our latest camera technologies.
Promat 2023

March 20–23, Chicago, Illinois — Visit LUCID at the Promat show for some exciting new 3D time-of-flight camera technologies. Visit us in Booth #N8527
Webinar: Spectral Imaging

April 4, Online Webinar — Join us for an InVision TechTalk on spectral imaging, where we will discuss SWIR and UV machine vision camera technologies.
Popular Resources
You May Have Missed
☰ Case Study: Microsatellite Captures High Resolution Imagery with Atlas 31.4MP 5GigE Camera

➤ Quick Video: Lens Mounts Compared for the Phoenix Camera Module

☰ JupyterLab Resource Center: Downloadable Notebooks for OCR, Barcode Reading, and Object Detection

☰ Case Study: AI-Based Object Recognition for Maritime Navigation

➤ Video: Intro to JupyterLab Support in ArenaView with Example Barcode Reading


| | |
| --- | --- |
| | Follow us on LinkedIn and YouTube for more updates on technological innovations and resources from the LUCID Vision Labs team. |