LUCID Newsletter 2022 Issue #4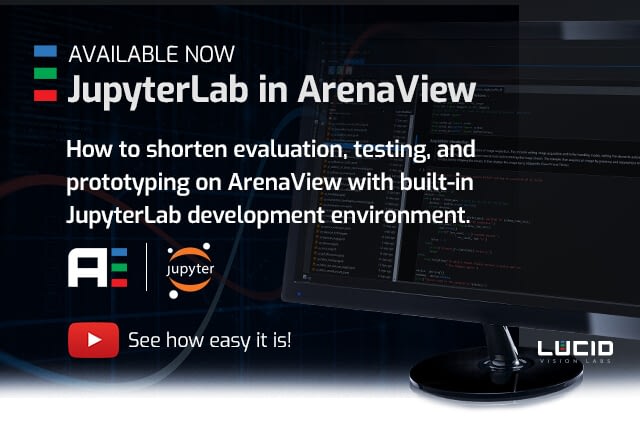 JupyterLab Is Now Available in ArenaView
We've added JupyterLab to ArenaView. JupyterLab is a built-in and preconfigured interactive development environment that can be used to easily test and validate a camera's features and performance. Using JupyterLab, you can speed up product qualification workflow without the need to set up a custom development environment, allowing a shorter cycle for evaluation, testing and prototyping. Visit the Arena SDK product page to Learn More.
Quick Video: JupyterLab in ArenaView

Take a look at what JupyterLab has to offer and how a notebook is set up for barcode reading.
App Note: Using LUCID's ArenaView With Jupyter Notebooks

Get step-by-step instructions on using JupyterLab in ArenaView.
Download Arena Version With JupyterLab

Download Arena version 1.0.33.4 and start using JupyterLab in ArenaView today.
Product Updates
Tamron SWIR Lens Available Now

We are excited to announce that we've added new C-mount Tamron SWIR lenses to our accessory family, available in 12mm, 16mm, and 25mm focal lengths. Tamron lenses maintain their focus in both visible and SWIR wavelengths without the need to adjust the focus. Designed to work with IMX990 and IMX991 sensors, the lenses are a perfect fit for our Atlas SWIR cameras.
LR-LINK 2-CH PCIe GigE Vision PoE+ Card

The PCIe-PoE2-LR (LR-LINK LRES2002PT) interface card is designed for industrial cable access, with screw-lock connections, offering industrial stability. Get solid, reliable connectivity from RJ45 connectors with thickened gold wires and a large heat sink for stable operation.
4-CH 2.5G/1G PoE+ Ethernet Card

The PCIe-PoE4-2G 10/100/1000M/2.5G Ethernet controller combines a four-channel (four ports) IEEE 802.3 compliant Media Access Controller (MAC) with a four-speed Ethernet transceiver, a PCI Express bus controller, and embedded memory.
Resource Updates
On-Demand Webinar: High Dynamic Range Imaging for Automotive Sensing Applications

Take an in-depth look at best practices for HDR imaging in automotive sensing systems and learn about the technology used in the Sony IMX490 CMOS sensor, which provides simultaneous on-sensor 120 dB HDR imaging and LED flicker mitigation at 5.4 MP.
New App Note: Unicast Device Discovery With LUCID Cameras

While GigE Vision software can discover cameras located on the same subnet by default – known as Broadcast Device Discovery, we use Unicast Device Discovery to find cameras located on different subnets of the same network. See examples in this App Note.
New App Note: Using Multiple ROIs with LUCID Cameras

This article provides instructions on how to use the Multiple Region of Interest (ROI) feature with LUCID cameras in Arena SDK.
Event Updates
Control 2022

May 3-6, 2022. Stuttgart, Germany — The international Control trade fair is a globally recognized technical event for suppliers and buyers. Exhibits include useful technologies, processes, products, and system solutions in the field of industrial quality assurance. LUCID showcase the Helios2+ 3D Time-of-Flight camera in Fraunhofer's joint Booth #6401.
AusPack

May 17-20, 2022. Melbourne, Australia — AusPack brings together more than 250 exhibitors of the food, beverage, and pharmaceutical processing and packaging industries. See the latest products and machinery in processing and packaging, materials handling, storage systems, robotics and automation and everything in between. Visit Booth #A050.
SPS Italia

May 24 - 26, 2022. Parma, Italy — The SPS Italia trade show promotes technologies related to industrial automation and the transition to 4.0, including robotics and mechatronics. To see some of our latest products, visit us at VisionLink's Stand #L019, Pavillion 5.
Automate

June 6-9, 2022, Detroit, Michigan USA — Automate, hosted by A3, features a full spectrum of automation technologies and solutions, from robotics, to vision, motion control and more. Visit us in Booth #113.
Popular Resources You May Have Missed
➤ On-Demand Webinar: Embedded Vision With the Triton Edge Camera

☰ Tech Brief: Sony IMX490 CMOS - On-Sensor HDR for 24-Bit Imaging

➤ Video: TCP for Reliable Image Transfer with 10GigE Cameras

➤ On-Demand Webinar: The Atlas SWIR Camera featuring Sony SenSWIR

☰ Case Study: 3D Time-of-Flight Camera Aids Robotic Palletizers
| | |
| --- | --- |
| | Follow us on LinkedIn and YouTube for more updates on technological innovations and resources from the LUCID Vision Labs team. |
| | |
| --- | --- |
| | Webstore Orders Made Easy. LUCID offers the convenience of a webstore, so customers can easily purchase our full line of cameras and accessories from the US, Canada, the EU, Australia, and New Zealand. An expansion of our webstore to other countries is planned as well. Stay tuned! Visit Our Webstore. |