LUCID Newsletter 2023 Issue #10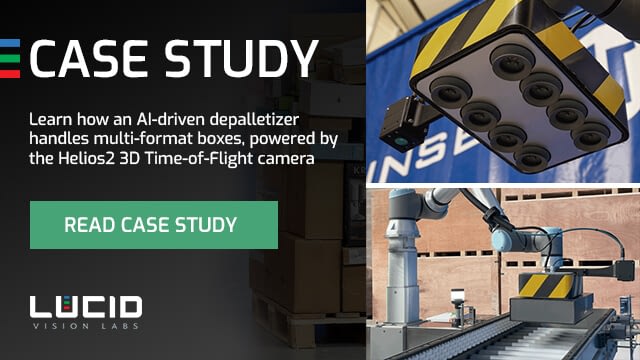 New Case Study: Automated AI-Driven Depalletizer Powered by Helios2 Time-of-Flight Camera
Discover how Inser Robotica's advanced AI-driven automated depalletizer can accurately identify a diverse range of box types, shapes, and placements to ensure the precise unloading of pallets. LUCID's Helios2 3D Time-of-Flight camera played a pivotal role in achieving exceptional precision, high throughput rates, and full autonomy for the unloading process. Read Case Study

NEW PRODUCTS
Triton2 with Gpixel GMAX4002 Sensor

The Triton2 – 2.5GigE camera featuring Gpixel's GMAX4002 global shutter sensor is available for order. This camera model delivers high image quality with 2.4 MP resolution at 107 FPS, and exceptional near-infrared sensitivity (>35% QE at 860nm).
Learn More
New Triton2 – 2.5GigE Models

The Triton2 – 2.5GigE camera family keeps growing. New models have been added and are now available for order. These include the 2.8 MP IMX429, 6.4 MP IMX178, and 7.1 MP IMX428 CMOS image sensors.
Learn More
NEW RESOURCES
New Video: SWIR Demo Tutorial

Check out our demo tutorial on SWIR imaging, which shows detailed steps on how to set up a Triton SWIR camera to detect unwanted particulates in food and other materials. ➤ Play Video
UPCOMING EVENTS
Vision China Shenzhen

Oct 30–Nov 1, Shenzhen, China — We will showcase our latest products in the Speed Vision booth, including the award-winning Atlas10 camera with RDMA, and Helios2 Wide ToF camera. Visit Booth #7F02.
ITE Yokohama 2023

Dec 6–8, Yokohama, Japan — We will showcase our latest innovative products at the International Technical Exhibition on Image Technology and Equipment. Visit Booth #D-33.
inVision Days Conference

Dec 5–7, Online — Register for InVision Days digital conference and catch our presentations and Q&A. We will talk about RDMA for 10GigE image applications and SWIR, UV, and polarization imaging.
POPULAR RESOURCES
You may have missed
☰ White Paper: Triton HDR Camera for Automotive Sensing

➤ Recorded Webinar: RDMA for 10GigE Cameras

☰ Case Study: Automated Wood Surface Inspection

➤ Sneak Peek Video: Atlas10 + RDMA Camera in Action

➤ Video: LUCID's AltaView™ On-Camera Tone Mapping Explained


| | |
| --- | --- |
| | Follow us on LinkedIn and YouTube for more updates on our technological innovations and useful resources. |