LUCID Newsletter 2023 Issue #4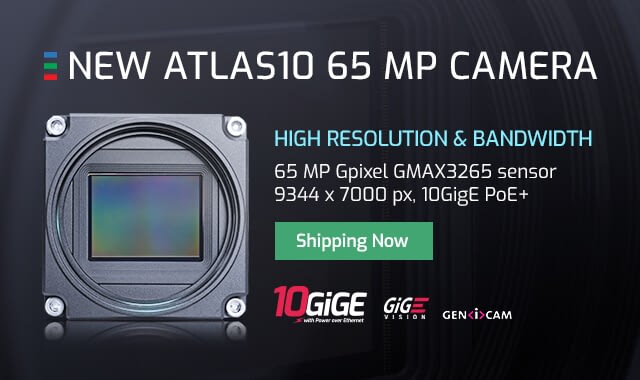 New Atlas10 65 MP Camera Featuring Gpixel's GMAX3265 Sensor
The new 65 MP Atlas10 is our highest-resolution camera yet and is available to order! It addresses the growing demand for higher-resolution imaging to capture a larger inspection area with even more detail and exceptional image quality. The ATX650G features Gpixel's 65 MP GMAX3265 global shutter CMOS sensor, which has a resolution of 9344 (H) x 7000 (V), ultra-low read noise, excellent shutter efficiency, and large angular response. This Atlas10 model is perfectly suited for applications such as semiconductor and flat panel display inspection, aerial surveillance, and metrology. Shipping now!

Product Updates
Atlas10 UV Camera

The Atlas10 ultraviolet camera features Sony's high-sensitivity 8.1 MP IMX487 UV sensor with Pregius S technology. UV imaging provides greater precision by detecting details beyond the visible light spectrum. It is ideal for semiconductor pattern inspection, materials sorting, infrastructure inspection, finding microdefects on surfaces and in transparent materials (plastic and PET), and more. Learn more.
Wafer Inspection With Atlas10 UV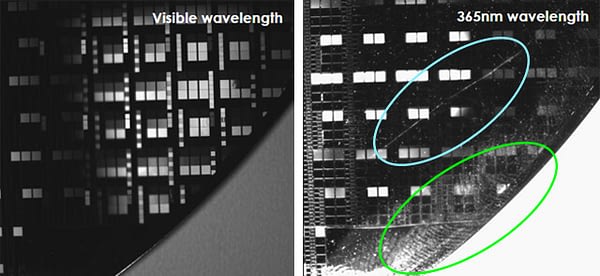 Example image: Wafer inspection with the Atlas10 UV camera shows fingerprints and scratches with viewing at 365 nm.
New TFL-II to F-Mount Lens Adapter

This TFL-II to F-mount adapter has an adjustable back focal distance ring (PN: ADA-TFL2-F-ADJ) and provides a secure bayonet mount for F-mount lenses on our Atlas10 cameras with TFL-II mounts. Learn more.
New Triton2 Camera Models Available

The Triton2 camera family keeps growing. The newest model, featuring the Sony Pregius 8.1 MP (IMX546) CMOS sensor, is now in production. Additional models to be released include the 20.4 MP (IMX541), 20.0 MP (IMX183), and 16.2 MP (IMX542) CMOS image sensors. Learn more.
Resource Updates
Video: Advanced Sensing With LUCID's SWIR and UV Cameras

Watch a pre-recorded presentation of our inVISION TechTalk covering SWIR and UV camera technologies, including our Triton and Atlas SWIR cameras and the new Atlas10 UV camera. Play Video.
KB Article: How to Create an Ubuntu Docker Image and Container

This knowledge base article describes how to create a docker image and docker container within Ubuntu 22.04 that can run LUCID's Arena SDK. Read Article.
Upcoming Events
Control 2023

May 9–12, Stuttgart, Germany — Control brings together a range of technologies, processes, products and system solutions for industrial quality assurance. Visit us at the Fraunhofer Booth, #7401, in Hall 7.
Vision China Beijing

May 17–18, Beijing, China — At the machine vision exhibition of Vision China Beijing, we showcase some of our latest camera technologies. Visit Booth #S15.
Automate 2023

May 22–25, Detroit, Michigan — We showcase our latest 3D, SWIR, and 10GigE cameras at Automate, the largest solutions-based showcase of automation, robotics, vision, and motion control in North America. Read our show preview for details and visit Booth #1646.
SPS Italy

May 23–25, Fiere di Parma, Italy — Visit the VisionLink booth to see demonstrations of LUCID's Triton2 – 2.5GigE camera and the new Helios2 Wide 3D Time-of-Flight camera. Visit Hall 5, Stand L019.
Image Sensing Show 2023

June 14–16, Yokohama, Japan — LUCID will exhibit a wide array of prodcuts at ISS, including our latest 2.5GigE, 10GigE, 3D Time-of-Flight, SWIR, and UV cameras. Visit Booth D-07.
Popular Resources
You May Have Missed
| | |
| --- | --- |
| | Follow us on LinkedIn and YouTube for more updates on technological innovations and resources from the LUCID Vision Labs team. |