LUCID Newsletter 2022 Issue #6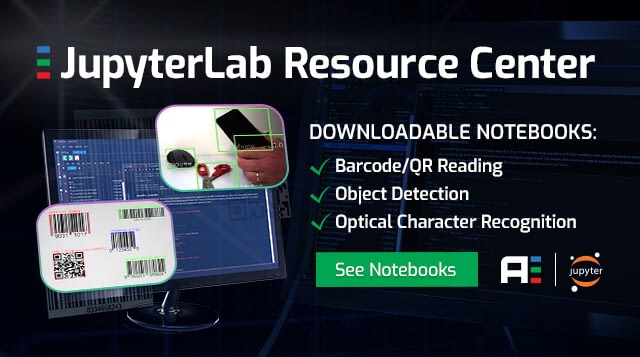 New Downloadable Notebooks from LUCID's
JupyterLab Resource Center
JupyterLab in ArenaView provides a built-in and preconfigured interactive development environment that speeds qualification, workflow, and enables easy validation and testing of a camera's features. Check out some downloadable notebooks in our new JupyterLab Resource Center, including material on barcode reading, Tensorflow based object detection, and optical character recognition.

Product Updates
Atlas™ IP67 5.0 MP and 12.3 MP Models

New Atlas IP67 5GigE camera models featuring the Sony Pregius S 5.0 MP IMX547 and 12.3 MP IMX545 CMOS sensors are coming soon. Our Factory Tough™ Atlas camera family offers a wide range of image sensors over 5GBASE-T with built-in IP67 protection.
Resource Updates
App Note: Bandwidth Sharing in Multi-Camera Systems

Sharing bandwidth among cameras often results in reduced frame rate and incomplete images due to packet collisions. This application note will discuss interleaving of packets to address collision of packets and will shed light on various methods for synchronization of cameras.
Corporate Update
Vision Systems Design Innovators Award

At Automate earlier this month we received a Vision Systems Design Award in the 'Embedded Vision' category for our Triton® Edge all-in-one edge computing camera featuring AMD Xilinx's Zynq® Ultrascale+™ MPSoC. Triton Edge allows vision application designers to build their own unique and powerful IP to run custom image processing.
Events & Webinars
ASTech Summit Presentation

June 28–29, online — This digital event showcases the latest innovations in autonomous system technology and design. LUCID gives a presentation on how to use the Sony IMX490 HDR CMOS sensor for automotive sensing systems.
Vision Spectra Webinar

July 20, 10:25 a.m. EDT, online — LUCID presents the latest on 3D time-of-flight technology at Vision Spectra's free virtual conference, which covers machine vision market projections, standards from EMVA and A3, embedded vision, deep learning/AI, vision-guided robotics, and 3D imaging.
Vision China Beijing

August 3–4, Beijing, China — Vision China Beijing brings the latest machine vision products and technologies for automotive, electronics, computer and peripheral products, semiconductor, and system integrators as well as downstream applications.
Taipei Industrial Automation Exhibition

August 24–27, Taipei, Taiwan — The Taipei Industrial Automation Exhibition includes industrial automation, robot technology, industrial automation information and communications technologies (ICT) and software, machine tools and machinery, hardware and factory equipment, and more.
Popular Resources
You May Have Missed
☰ Case Study: AI-Based Object Recognition for Maritime Navigation

➤ Video: Intro to JupyterLab Support in ArenaView with Example Barcode Reading

➤ On-Demand Webinar: HDR Imaging for Automotive Sensing Applications

➤ On-Demand Webinar: Embedded Vision With the Triton Edge Camera

☰ Tech Brief: Sony IMX490 CMOS - On-Sensor HDR for 24-Bit Imaging


| | |
| --- | --- |
| | Follow us on LinkedIn and YouTube for more updates on technological innovations and resources from the LUCID Vision Labs team. |