CASE STUDY
Industry: Robot Handling/Manufacturing Automation
Product: Helios2 Time-of-Flight Camera
SDK: 3D Recognition Software
Robot Gripper Moves Stackable Bins Using the Helios2 ToF Camera
Robot Gripper Moves Stackable Bins Using the Helios2 ToF Camera
In the past, most robots were set up for operation by the teach-and-repeat technique. Typically a trained operator used a portable control device to manually program a robot and its tasks. More recently however, automatic control systems using cameras have been introduced to improve work efficiency and eliminate the need for teaching robots. Until recently, robot vision was used to capture a bird's-eye view of an object from the ceiling or to capture a target attached to a robot arm. This method required adjustments to the robot's control program based on various factors such as changes to the installation and layout of the site, or the type of robot gripper being used. This complicated the handling of the robot onsite and was one of the main reasons why a fully automated robot system hadn't been released.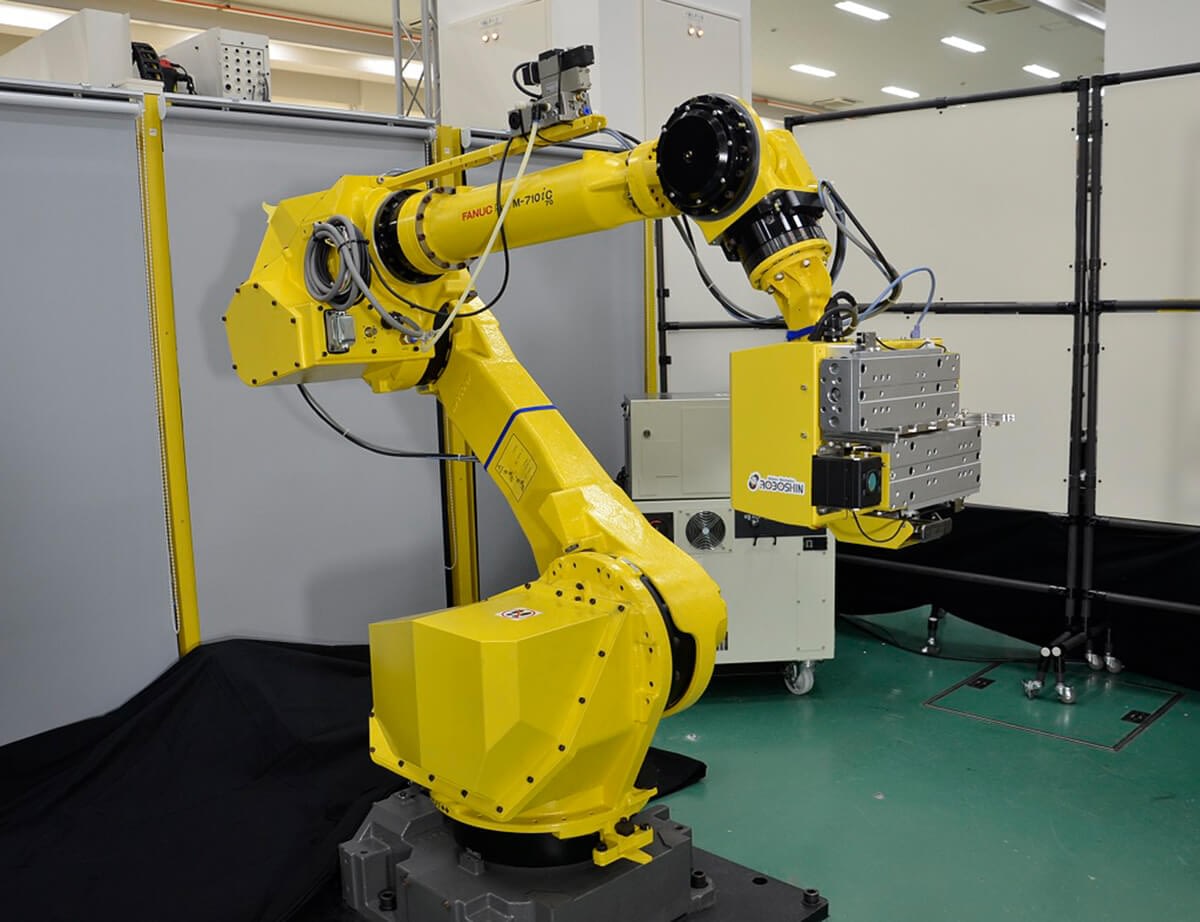 Challenge
Aiming to improve the versatility of onsite automation systems, Roboshin, a Japanese company focusing on robot handling technologies, in cooperation with SHINMEI Industry Co., Ltd. and SHINWA Co., Ltd., has commercialized a system that picks plastic bins with a 3D camera mounted on a robot gripper in cooperation with SHINMEI Industry Co., Ltd. and SHINWA Co., Ltd. The combination of 3D recognition software and a robot gripper equipped with a 3D time-of-flight camera enables the introduction and set up
of a system that does not depend on the robot gripper, regardless of the environment in which it is used.
In the past, when a robot gripper was equipped with a 3D camera, the size and weight of the camera as well as the time required to acquire 3D images were problematic. If the 3D camera was too large, there were concerns about interference with narrow work areas and surrounding shelves and tables. Camera size could also interfere with various operations such as an object's placement and insertion into a chute. If the camera was too heavy, it limited the payload the robot was able to handle, and depending on the object to be picked up, it could be necessary to switch to a robot that could handle heavier payloads. Furthermore, if it took longer to acquire 3D images, the overall takt time was affected. To shorten takt time, it was important to acquire the 3D images in real time.
In addition, if subsequent processing was required to generate 3D images, not only was the response time a concern, but also the CPU load on the host side increased, resulting in lower processing speeds and higher system costs.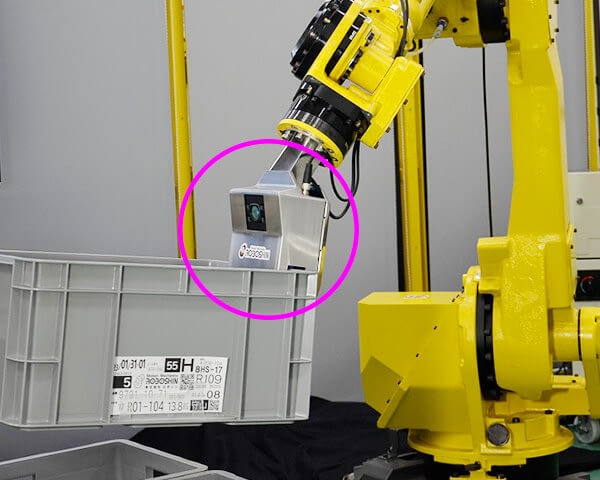 With a 3D camera mounted on the gripper, the Roboshin robot gripper specializes in picking plastic bins.
LUCID's 3D time-of-flight Helios2 and Helios2+ cameras are equipped with Sony's DepthSense™ IMX556PLR back-illuminated ToF image sensors and can acquire high-definition, real-time 3D point cloud data at 30 fps.
The 3D camera's compact design measures 60 x 60 x 77.5mm and weighs less than 400 g, which makes it ideal for mounting on a robot gripper. The Factory Tough™ Helios2/2+ camera has passed shock resistance tests according to DIN EN60068-2-27 and vibration resistance tests according to DIN EN60068-2-64. It is IP67 certified for use in environments where dust and moisture are present.
The new robot gripper is equipped with LUCID's Helios2 ToF camera. This 3D camera enables the gripper to approach plastic bins from the side, instead of the usual approach from directly above. This approach allows the gripper to pick up plastic bins stacked on multiple levels and feed them into a chute. The Helios2 ToF camera helps manufacturers overcome the challenges of integrating a 3D camera into a robotic arm gripper system, including size and weight restrictions, image acquisition time concerns, and subsequent processing requirements.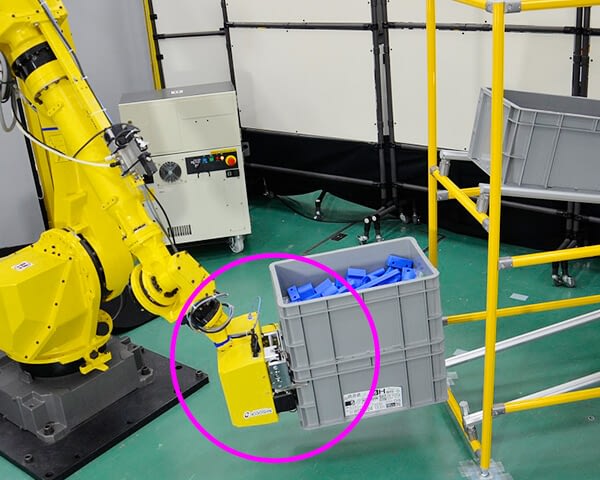 The Helios2 ToF camera enables the gripper to approach plastic bins from the side, instead of from directly above.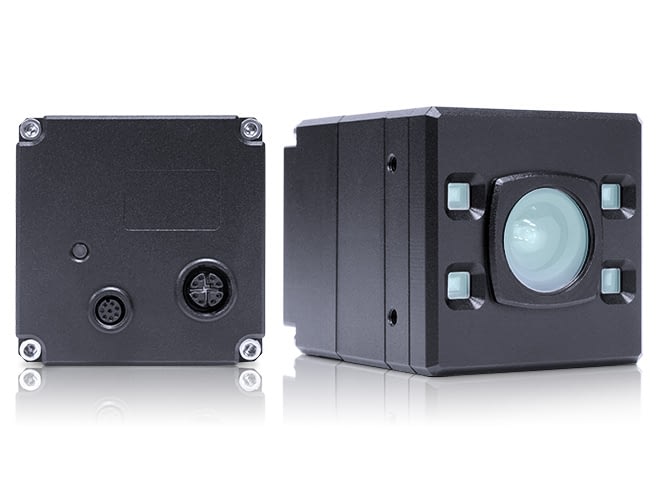 The Helios2 3D time-of-flight camera is ideal for mounting onto a robot arm because it is built Factory Tough™, with a compact 60 x 60 x 77.5mm form factor, and weighing less than 400 g.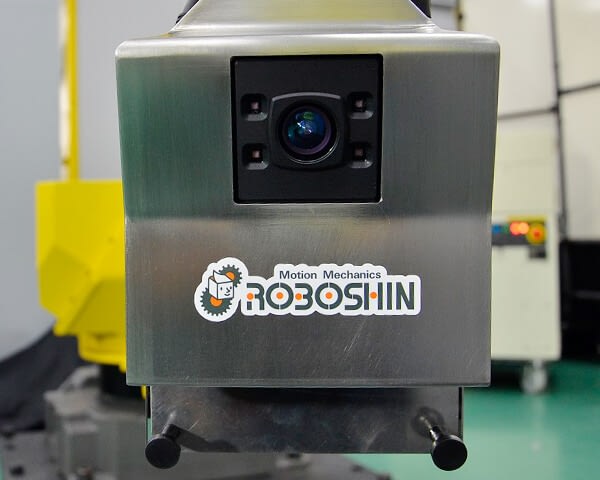 Conclusion
In recent years, there has been a growing trend towards the use of advanced robots in various workplaces, particularly in industrial environments such as warehouses. With the help of 3D time-of-flight technology, robot systems can now perceive their surroundings with unprecedented accuracy. The integration of 3D ToF cameras offers great potential for the future adoption of automated robot systems. Depth-sensing intelligence allows robots to perceive their surroundings and to capture depth imaging data to undertake business-critical functions with accuracy, convenience, and speed. Overall, LUCID's Helios2 ToF camera is a compact and lightweight solution with the potential to improve the way robots interact with their environments, making automation more efficient, reliable, and cost-effective.
See a video of Roboshin's robot gripper in action.