LUCID Newsletter 2022 Issue #9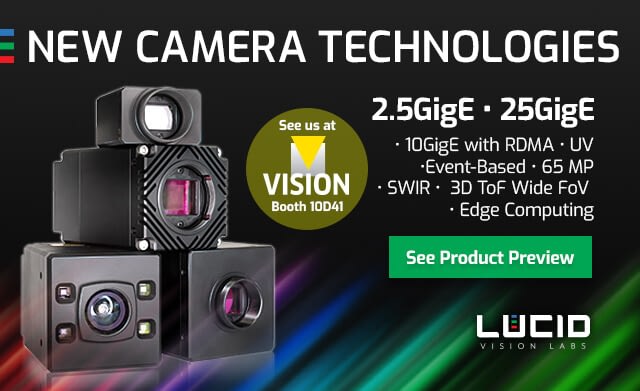 See New Camera Technologies at VISION 2022
At VISION 2022 in Stuttgart, Germany, October 4–6, LUCID debuts its latest innovations. Our new camera technologies include the Triton2 IP67 2.5 GigE camera, the Atlas25 25GigE camera, and the Atlas10 with RDMA. Also see the new Triton EVS event-based camera, new Atlas10 models featuring the 65 MP Gpixel GMAX3265 sensor and the new Sony IMX487 ultraviolet (UV) sensor, and the Helios2 Wide field-of-view time-of-flight camera.



Visit us in Booth 10D41!



New Product Highlights
Triton2 2.5 GigE Camera

The new Triton®2 IP67 2.5GigE camera features 4th Gen Pregius S sensors ranging from 5.0 to 24.5 MP, allowing for higher resolution and frame rates. With a compact 29x44x45 mm size and excellent price-performance, Triton2 is a nice upgrade from 1GigE cameras and a good alternative to USB 3.0.
Atlas10 10GigE Camera with RDMA

Introducing 10GigE with Remote Direct Memory Access (RDMA) for optimized image streaming. The Atlas™10 camera with RDMA streams 1.2 GB/s of data directly to main memory, bypassing the CPU and OS. This increases throughput, lowers latency, and eliminates CPU usage, which is required for reliable multi-10GigE camera applications.
Atlas25 25GigE Camera Over SPF28

The new Atlas™25 cameras feature Sony Pregius S 24.5 MP IMX530 and 20.4 MP IMX531 sensors with a 25GigE SFP28 interface, ideal for applications that demand high resolution and speed, such as virtual reality, FPD inspection, wafer processing, volumetric capture, and applications requiring multi-camera synchronization.
Upcoming Events
Vision 2022

October 4–6, Stuttgart, Germany — We look forward to seeing you in Booth 10D41. Check out live demonstrations of our latest technologies.

Registration is free. Use ticket code #71HIDAY.

VISION 2022, October 6, from 14:20 to 14:40, Hall 8, Booth C70. At the Industrial Vision Days forum organized by VDMA Machine Vision, LUCID gives a presentation titled "The Advantages of JupyterLab for Machine Vision." JupyterLab is a built-in and preconfigured interactive development environment that can be used to easily test and validate camera features and performance.
Click below to request free visitor passes!
Ticket registration code #71HIDAY
Vision China Shenzhen

November 15–17, Shenzhen, China — Vision China Shenzhen presents the latest machine vision products and technologies at the Shenzhen World Exhibition and Convention Center. LUCID showcases its latest camera technologies in the Speed Vision booth, our local distributor in China.
ITE Yokohama

December 7–9, Yokohama, Japan — At this year's International Technical Exhibition on Image Technology and Equipment in Yokohama, Japan, LUCID showcases several new camera technologies, including 2.5GigE, 10GigE, 25GigE, 3D time-of-flight and multispectral imaging.
Popular Resources
You May Have Missed
➤ Quick Video: Lens Mounts Compared for the Phoenix Camera Module

☰ JupyterLab Resource Center: Downloadable Notebooks for OCR, Barcode Reading, and Object Detection

☰ Case Study: AI-Based Object Recognition for Maritime Navigation

➤ Video: Intro to JupyterLab Support in ArenaView with Example Barcode Reading

➤ On-Demand Webinar: HDR Imaging for Automotive Sensing Applications


| | |
| --- | --- |
| | Follow us on LinkedIn and YouTube for more updates on technological innovations and resources from the LUCID Vision Labs team. |