LUCID Newsletter 2022 Issue #5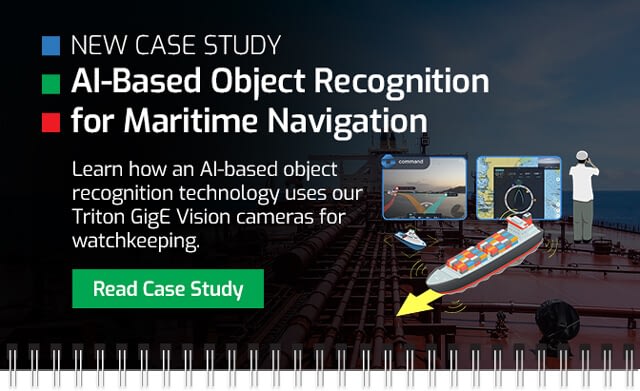 AI-Based Object Recognition for Safe Maritime Navigation
Objects on the horizon such as boats, buoys, and debris cannot be detected by radar alone, and therefore a ship's crew must maintain a vigilant schedule of watchkeeping duties. Learn in our latest case study how an AI-based object recognition technology uses our Triton GigE Vision cameras for watchkeeping, reducing mental burden on sailors and improving safety navigation.
Product Updates
Atlas10 Camera with 47 MP IMX492
The Atlas10 camera featuring Sony's 47 MP IMX492 rolling shutter sensor is now available for order. Equipped with a TFL mount, the Atlas10 ATX470S camera offers a 10GigE bandwidth and fast frame rates at 22.6 fps at full resolution. It is a cost-efficient solution for applications that demand high resolution, such as aerial imagery, AOI, 3D scanning, and more.
Resource Updates
App Note: Default Network Ports
To ensure User Datagram Protocol (UDP) always has a connection between the device and the host system, certain network ports are reserved for the GigE Vision Control Protocol (GVCP) and GigE Vision Stream Protocol (GVSP) packets. This App Note explains how to unblock these ports if they are being blocked by a system firewall on Linux machines.
Events & Webinars
Automate

June 6–9, 2022, Detroit, Michigan USA — Automate, hosted by A3, features a full spectrum of automation technologies and solutions from robotics, to vision, motion control and more. Visit us at Booth #113.
CVPR

June 19–24, 2022, New Orleans, Louisiana USA — CVPR is the premier annual computer vision event. Held annually, the conference is comprised the main conference along with several workshops and short courses. We'll be there with some exciting new cameras. Visit as at Booth #1022.
Embedded World
June 21–23, Nuremberg, Germany — The Embedded World trade fair features everything to do with embedded systems from electronic systems to distributed intelligence to IoT to energy efficiency. The conference also showcases components, modules, complete systems, operating systems, hardware, software and services.
ASTech Summit

June 28–29, Online — This digital event showcases the latest innovations in autonomous system technology and design. LUCID will be giving a presentation on how to use the Sony IMX490 HDR CMOS sensor for automotive sensing systems.
Vision Spectra Webinar

July 20, 2022 10:25 AM EDT, Online — LUCID will present the latest on 3D Time-of-Flight technology at Vision Spectra's free virtual conference, which covers machine vision market projections, standards from EMVA and A3, embedded vision, deep learning/AI, vision-guided robotics, and 3D imaging.
Popular Resources
You May Have Missed
➤ Video: Intro to JupyterLab Support in ArenaView with Example Barcode Reading

➤ On-Demand Webinar: HDR Imaging for Automotive Sensing Applications

➤ On-Demand Webinar: Embedded Vision With the Triton Edge Camera

☰ Tech Brief: Sony IMX490 CMOS - On-Sensor HDR for 24-Bit Imaging

➤ Video: TCP for Reliable Image Transfer with 10GigE Cameras


| | |
| --- | --- |
| | Follow us on LinkedIn and YouTube for more updates on technological innovations and resources from the LUCID Vision Labs team. |