LUCID Newsletter 2023 Issue #3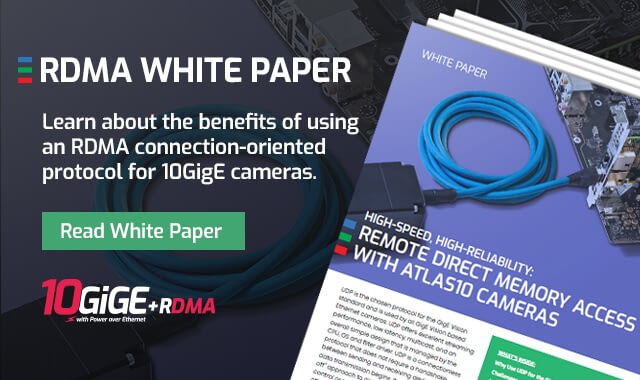 New White Paper: Remote Direct Memory Access (RDMA)
With Atlas10 Cameras
Today almost all Ethernet GigE Vision cameras use the UDP protocol for streaming images, which works well but requires use of the host PC's CPU resources. LUCID's Atlas10 cameras, along with an RDMA capable NIC, bypass the host PC's CPU, allowing images to be streamed directly into PC's main memory. In this white paper, you will gain valuable insight into the impact of RDMA technology on Ethernet-based machine vision cameras and see real-world performance benchmarks of our Atlas10 10GigE cameras with RDMA. Download white paper!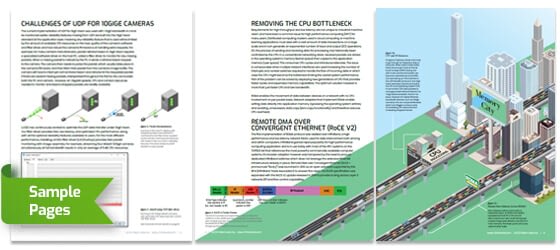 Resource Update
New Case Study: Robot Gripper Uses the Helios2 3D Camera

Learn about a new robot gripper by Roboshin that specializes in picking plastic bins. LUCID's Helios2 3D time-of-flight camera is located on the gripper. Video clip included! Read case study.
Product Update
Atlas10 65 MP Featuring Gpixel GMAX3265

The new 65-megapixel Atlas10 is our highest resolution camera yet. Featuring the Gpixel GMAX3265 global shutter sensor, sized to fit comfortably behind a 35 mm lens and a TFL-II mount, it is a cost-effective solution for applications like semiconductor inspection, surveillance metrology, and flat panel display inspection. Coming soon! Learn more.
New Triton2 Camera Models

The new Triton2 – 2.5GigE camera family keeps growing. Additional models to be released soon include Sony Pregius S 20.4 MP (IMX541), 20.0 MP (IMX183), 16.2 MP (IMX542), and 8.1 MP (IMX546) CMOS image sensors. Learn more.
Upcoming Events
Webinar: Spectral Imaging

April 4, Online Webinar — Join us for an InVision TechTalk on spectral imaging, where we discuss SWIR and UV machine vision camera technologies.
Control 2023

May 9–12, Stuttgart, Germany — Control brings together a range of technologies, processes, products and system solutions for industrial quality assurance. Visit us in Booth #7401 in Hall 7.
Vision China Beijing

May 17–18, Beijing, China — At the machine vision exhibition of Vision China Beijing, we showcase some of our latest camera technologies. Visit us at our Booth #S15.
Popular Resources
You May Have Missed
| | |
| --- | --- |
| | Follow us on LinkedIn and YouTube for more updates on technological innovations and resources from the LUCID Vision Labs team. |