LUCID Newsletter 2022 Issue #3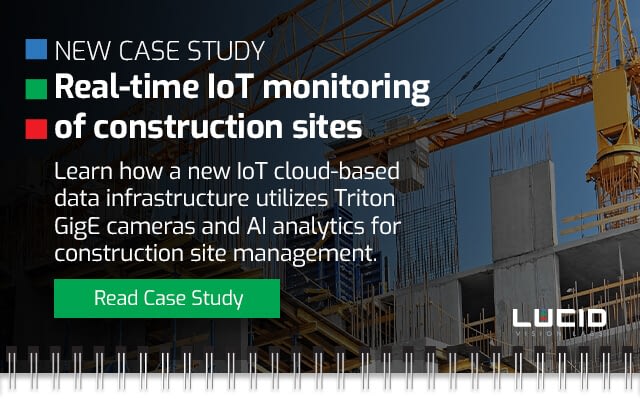 Case Study: Real-Time IoT Construction Site Video Monitoring
A new cloud-based IoT data infrastructure by MODE, Inc. allows for real-time monitoring of construction sites. The system can centralize all the data collected from cameras and sensors that monitor vehicles, equipment, and field workers, making it possible to remotely analyze the status of a project or multiple projects. MODE's system includes LUCID's Triton IP67 cameras, featuring the 3.2 MP Sony IMX265 CMOS sensor, which provide high-definition video for uploading into the MODE Mobility cloud.


Product Updates
Available to Order: High-Resolution 47 MP Atlas10 Camera

The Atlas10 10GBASE-T camera is now available to order with the 47 MP Sony IMX492 rolling shutter CMOS sensor. The ATX470S is equipped with a TFL-mount and is a cost-efficient solution for applications demanding high resolution at 8240 x 5628 pixels.
Resource Updates
On-Demand Webinar: Embedded Vision with the Triton Edge Camera

Learn how embedded vision application designers can reduce time-to-market while integrating their own IP into a compact vision system using the Triton Edge IP67 industrial all-in-one edge computing camera, powered by Xilinx's Zynq® UltraScale+™ MPSoC (Multi-Processor-System-on-Chip).
New App Note: Application Switchover Feature

See how to set-up Primary Application Switchover with LUCID cameras. This feature allows another application to take control of a device without waiting for the original controlling application to release control. This is useful for systems where redundancy and fault recovery are required, and systems that need to switch between different applications or host PCs.
New App Note: Using VLANs With LUCID Cameras

This article explains how to use VLANs with LUCID cameras, enabling the cameras to operate in isolated networks. Virtual local area network (VLAN) refers to a logical grouping of different hosts in a common broadcast domain.
Event Updates
VSD Webinar — HDR Imaging for Automotive Sensing Applications

April 14, 2022 11a.m. ET — LUCID will discuss the best practices for HDR imaging in automotive sensing systems and explain the technology used in the Sony IMX490 CMOS sensor, which provides on-sensor 120 dB HDR imaging and LED flicker mitigation at 5.4 MP.
UKIVA Machine Vision Conference 2022

April 28, 2022. Milton Keynes, UK — The UKIVA Machine Vision Conference and Exhibition features a comprehensive program of technical seminars across multiple presentation theaters. This will be supported by an exhibition of the latest vision technology and services from the leading companies in the world of vision. LUCID will exhibit together with ClearView Imaging, our UK distributor, in Booth #35.
Control 2022

May 3-6, 2022. Stuttgart, Germany — The Control international trade fair provides suppliers and buyers with a globally recognized technical event, exhibiting useful technologies, processes, products, and system solutions in the field of industrial quality assurance. LUCID will be exhibiting at Fraunhofer's joint Booth #6401.
| | |
| --- | --- |
| | Follow us on Linkedin and Youtube for more of the latest updates on technological innovations & resources by the LUCID Vision Labs team. |
| | |
| --- | --- |
| | Webstore Orders Made Easy. LUCID offers the convenience of a webstore to easily purchase our full line of cameras and accessories from the US, Canada, EU, Australia, and New Zealand. A future expansion of our webstore is planned to other countries as well. Stay tuned! Visit Our Webstore. |