LUCID Newsletter 2022 Issue #7/8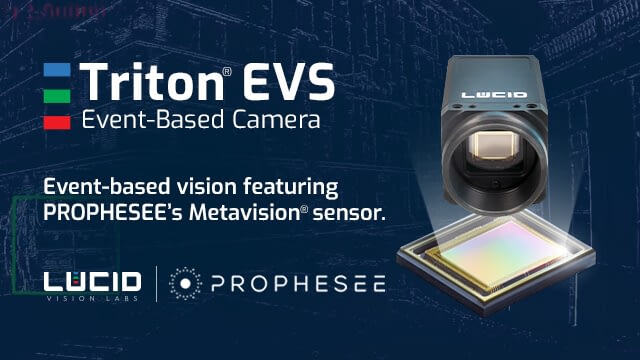 New Triton® EVS Event-Based Camera
The Triton EVS camera featuring PROPHESEE's Metavision® sensor, provides event-based image data. Instead of capturing frames, the camera uses event-based pixels, which continuously sample incoming light and generate signal only when the light level changes. The sensor is shutter-free. It continuously monitors photocurrent for changes in illumination and responds with an on or off event to an increase or decrease in intensity exceeding given thresholds.

Event-based vision opens up new industrial applications as it significantly improves performance, lowers power consumption, and provides a more flexible solution for machine vision applications such as motion analysis, vibration monitoring, object tracking, optical flow, autonomous driving, high-speed detection and tracking. Coming in Q4.

Product Updates
Atlas™ IP67 16.2 MP Model

The Atlas IP67 5GigE camera family keeps growing. The newest 16.2 MP addition features the 4th generation Sony Pregius S IMX542 image sensor and will be in production in Q3. Our Factory Tough™ Atlas camera family offers a wide range of image sensors from, 2.8 MP to 24.5 MP over 5GBASE-T with built-in IP67 protection.
Resource Updates
App Note: Using ROS2 for Linux

Learn in this App Note how to install arena_camera, LUCID's ROS2 driver. Robot Operating System (ROS) provides libraries and tools to help software developers create robotic applications, including hardware abstraction, device drivers, libraries, visualizers, message-passing, and package management.
Events & Webinars
Vision 2022

October 4–6, Stuttgart, Germany — LUCID showcases a variety of new camera technologies at VISION 2022 including the Triton EVS event-based camera, new Atlas10 models featuring the 65 MP GMAX3265 sensor and the new Sony IMX487 ultraviolet (UV) sensor, and the Helios2 Wide Field of View (FoV) time-of-flight camera, and more. Come see LUCID in Booth 10D41.
TechTalks Webinar: New Machine Vision Camera Technologies

September 20, 14:00Uhr (MEZ) online — LUCID covers new camera technologies that beyond conventional methods of image capturing. Topics include event-based vision featuring our new Triton EVS camera with PROPHESEE's Metavision® sensor and LUCID's new all-in-one edge computing Triton Edge camera, featuring AMD Xilinx's Zynq® UltraScale+™ technology with multi-processor functionality and user programmable FPGA accessibility.
Vision China Beijing

September 27–28, Beijing, China — Vision China Beijing presents the latest machine vision products and technologies for visitors to explore in the South China market. LUCID features new camera technologies, including the Triton EVS event-based camera and the Triton Edge all-in-one edge computing camera.
Popular Resources
You May Have Missed
☰ JupyterLab Resource Center: Downloadable Notebooks for OCR, Barcode Reading, and Object Detection

☰ Case Study: AI-Based Object Recognition for Maritime Navigation

➤ Video: Intro to JupyterLab Support in ArenaView with Example Barcode Reading

➤ On-Demand Webinar: HDR Imaging for Automotive Sensing Applications

➤ On-Demand Webinar: Embedded Vision With the Triton Edge Camera


| | |
| --- | --- |
| | Follow us on LinkedIn and YouTube for more updates on technological innovations and resources from the LUCID Vision Labs team. |