LUCID Newsletter 2022 Issue #1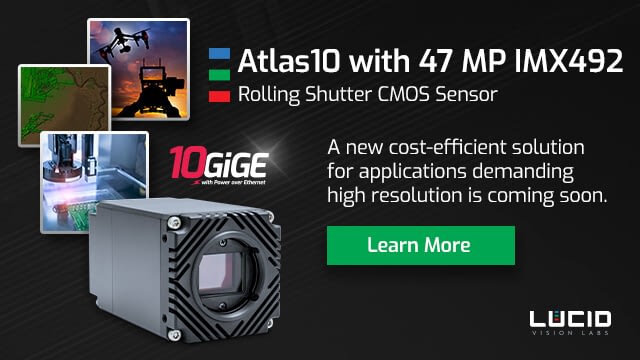 Atlas10 10GigE with Cost-Efficient IMX492 Rolling Shutter Sensor
The high-resolution Atlas10 10GBASE-T Camera will soon be featuring Sony's IMX492 47 MP rolling shutter CMOS sensor, offering a cost-efficient solution for applications demanding high resolution such as AOI, 3D scanning, Aerial Imagery, and more.

The ATX470S will be equipped with a TFL mount and 10G bandwidth and will allow up to 20 FPS at full resolution. Note that this model provides a natural upgrade path for customers currently using the IMX183 image sensor. Coming soon with a unit sales price of $2,495 USD.


Product Updates
Atlas IP67 SWIR in Production

The Atlas SWIR camera is available to order, featuring Sony SenSWIR 1.3 MP IMX990 and 0.3 MP IMX991 InGaAs sensors, and offers IP67 protection, Power over Ethernet (PoE+), and is equipped with integrated single-stage sensor cooling (TEC1).
New Tariff Free M12 IP67 Cat6a Cable

This cable is manufactured in Taiwan and is exempt from the 25% US import tariff duty. This M12 to RJ45 IP67 Cat6a cable is designed for robust operation in industrial environments, including environments where dirt, dust, and water are present. Compatible with all Triton, Atlas and Helios camera models.
Company Update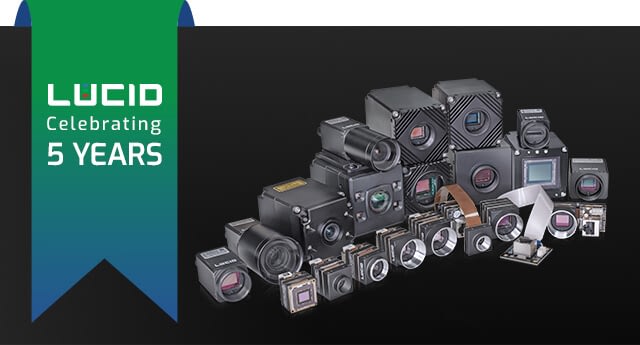 This month LUCID is celebrating its 5-year anniversary since our founding back in January 2017. We've accomplished a lot over the past five years and are proud to take a trip down memory lane and share the highlights of our company and product milestones.
Resource Updates
Video: How to Put Together an IP67 Camera

Learn how to put together a complete LUCID IP67 camera and get some tips on some things to consider when pairing a lens with an IP67 lens tube.
New APP Note: TCP on Windows/Linux

This Application Note will explain how to use TCP with LUCID's Atlas10 cameras. TCP offers more reliability as bandwidth increases to 10GigE, especially for multi-10GigE camera applications.
New APP Note: Setting up a Network Bridge

This article will demonstrate how to set up a network bridge on both Windows and Ubuntu systems, which may be necessary when attempting to synchronize cameras using PTP which are connected directly to a multi-port Ethernet card or separate Ethernet cards, as PTP expects them to be connected to a switch first.
Event Updates
Webinar - From SWIR to Hyperspectral

March 22, 2022 - Learn about the advantages of different multi- & hyperspectral imaging products, systems and their applications. LUCID will discuss SWIR technology and our own Atlas SWIR IP67 Camera.
Webinar - Embedded Vision

March 1, 2022 - This webinar will present three interesting solutions, including LUCID's Triton Edge camera featuring Xilinx's Zynq UltraScale+™ MPSoC, which provides a new level of on-camera performance and flexibility without sacrificing power efficiency, sensor performance, or camera size.
MODEX 2022

March 28-31, Atlanta USA – MODEX 2022 will be at Atlanta's Georgia World Congress Center, and offers a chance to make new contacts, discover cutting-edge solutions, and learn the latest trends that are sure to give you a leg up on the competition in manufacturing, supply chain, and transportation operations. Visit booth #C8198
| | |
| --- | --- |
| | Follow us on Linkedin and Youtube for more of the latest updates on technological innovations & resources by the LUCID Vision Labs team. |
| | |
| --- | --- |
| | Webstore Orders Made Easy. LUCID offers the convenience of a webstore to easily purchase our full line of cameras and accessories from the US, Canada, EU, Australia, and New Zealand. A future expansion of our webstore is planned to other countries as well. Stay tuned! Visit Our Webstore. |