LUCID Newsletter 2023 Issue #5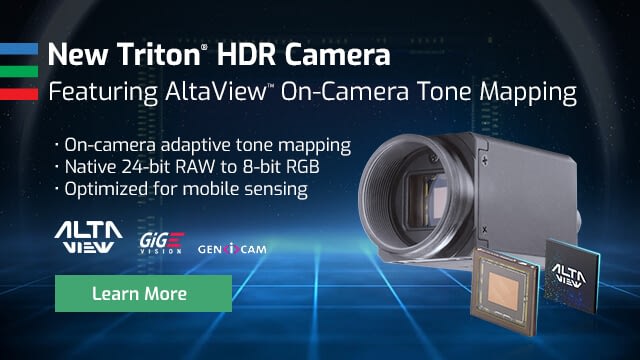 New Triton® HDR Camera With AltaView™
On-Camera Tone Mapping
Introducing AltaView™, LUCID's on-camera adaptive tone mapping engine – now available on the new Triton HDR TDR054S camera. Paired with Sony's IMX490 HDR sensor, AltaView delivers real-time tone-mapped image output directly from the camera, producing data-rich 8-bit images with enhanced details in the shadows and highlights.

The optimized AltaView output offers perceptually equivalent lower bit depth HDR images, reducing CPU/GPU resources required for efficient AI processing and mobile sensing applications, eliminating the need to create a custom tone mapping algorithm on a host PC and accelerating your development time. For exceptional industrial performance, choose our IP67 Factory Tough™ Triton camera with the IMX490 HDR sensor and AltaView, the TDR054S, and enjoy unparalleled image quality, reliability, and ease of use. Learn More!

Company Update

Platinum Award: Atlas10 with RDMA

The Atlas10 camera with Remote DMA (RDMA) has earned the Platinum award in the "Cameras – Visible" category. Atlas10 with RDMA reliably streams 1.2 GB/s of data directly to main memory, able to bypass the host PC's CPU bottleneck. This increases throughput, lowers latency, and eliminates CPU usage. Learn More.
Silver Award: Helios2 Wide Field of View

The new Helios2 Wide Time-of-Flight camera received a Silver award in the "3D Camera" category. Helios2 Wide features Sony's DepthSense IMX556PLR back-illuminated ToF image sensor paired with a wide-angle lens, providing a 108° x 78° field of view, which is four times that of the Helios2 camera. Learn More.
Product Updates
Triton2 Models Available for Order

More Triton2 models are available for order. These models include the 20.4 MP (IMX541), 20.0 MP (IMX183), and 16.2 MP (IMX542) CMOS image sensors. Available Now.
New 4-CH 5G/2.5G/1G PoE+ Ethernet Card

The PCIE-POE4-5G is an industrial-grade 4-port 5GBASE-T frame grabber card with 802.3at PoE+ capability. It offers dedicated 5 Gb/s ethernet bandwidth for each port, and is backward compatible with 2.5G, 1G, 100M link speeds to support legacy ethernet devices. Learn More.
Resource Updates
New JupyterLab Downloadable Notebooks

Check out the JupyterLab Resource Center for more downloadable notebooks, which include a histogram for contrast enhancement and a notebook to apply an Open CV color correction matrix. Visit our JupyterLab Resource Page.
Sneak Peak Video: Atlas10 with RDMA

Check out this quick video demonstrating two Atlas10 10GigE cameras using RDMA (Remote Direct Memory Access, based on the RoCE v2 open standard) streaming technology running on a low spec PC (i3, 16GB). Play Video.
Upcoming Events
Image Sensing Show 2023

June 14–16, Yokohama, Japan — LUCID will exhibit a wide array of products at ISS, including our latest 2.5GigE, 10GigE, 3D Time-of-Flight, SWIR, and UV cameras. Visit Booth #D-07.
CVPR 2023

June 20–22, Vancouver, BC — We are delighted to be exhibiting in our home-town at CVPR 2023! Visit our booth to see our latest cameras. Booth #1223.
UKIVA 2023

June 20–21, Coventry, UK — Visit us at UKIVA in the Clearview Imaging booth for a look at our latest camera technologies. Booth #05.
Automatica 2023

June 27–30, Munich, Germany — We'll be showcasing the Triton2 – 2.5GigE camera, and the award winning Atlas10 with RDMA and Helios2 Wide 3D Time-of-Flight cameras. Visit us in Booth #B5.204.
Vision China Shanghai

July 11–14, Shanghai, China — We'll be showcasing our latest cameras. Visit us in Booth #5.1C201.
Popular Resources
You May Have Missed
➤ Video: Advanced Sensing With LUCID's SWIR and UV Cameras

☰ White Paper Download: Remote Direct Memory Access (RDMA) With Atlas10 Cameras

☰ New Case Study: Robot Gripper Uses the Helios2 3D Camera

➤ Video: Triton2 – 2.5GigE Camera

➤ Video: Sony SWIR Sensors & TEC Cooling: Atlas SWIR and Triton SWIR Cameras


| | |
| --- | --- |
| | Follow us on LinkedIn and YouTube for more updates on technological innovations and resources from the LUCID Vision Labs team. |