LUCID Newsletter 2023 Issue #9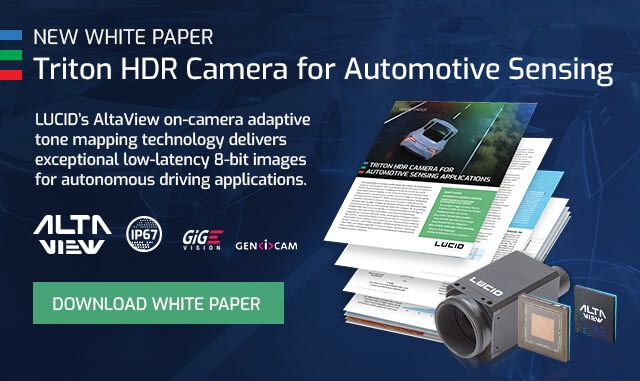 New White Paper: Triton HDR Camera for Automotive Sensing Applications
This comprehensive overview compares the current sensing technologies used for automotive applications. We outline the challenges faced by LiDAR, radar, sonar, and traditional HDR cameras, and detail the benefits of the new Triton HDR camera featuring Sony's IMX490 HDR sensor and LUCID's AltaView™ on-camera tone mapping engine.

AltaView's adaptive tone mapping conquers key challenges in mobile sensing by delivering low-latency 8-bit images with exceptional detail and color in both shadows and highlights. Moreover, it reduces development time by eliminating the need to create a tone mapping algorithm on the host PC. Download White Paper

Product Update
Triton2 – 2.5GigE Camera Models

More Triton2 – 2.5GigE camera models are available to order, including models featuring Sony's 1.6MP IMX273, 2.3MP IMX392, 5.0MP IMX264, and 12.3MP IMX304 sensors. Learn More
New IP67 Lens Tubes

More IP67 lens tubes are available to order for our Triton and Triton2 cameras. Ranging from 7.1–31.5mm, these new lens tubes are suitable for compact C-mount lenses. Learn More
Company Update
VSD Innovators Awards China 2023

LUCID has received Gold in the 2023 VSD Innovators Awards in China for the Atlas10 camera with RDMA. Our RDMA-enabled Atlas10 cameras bypass the CPU and OS to reliably stream 1.2GB/s data directly to main memory. Learn More
Team Building in Vancouver BC

We thank our regional sales teams for joining us at LUCID headquarters for our annual team building week! It was a perfect day to be out on the Pacific Ocean, fishing for salmon and catching up with our colleagues.
Upcoming Events
Vision China Shenzhen

Oct 30–Nov 1, Shenzhen, China — We will showcase our latest products in the Speed Vision booth, including the award-winning Atlas10 camera with RDMA, and Helios2 Wide ToF camera. Visit Booth #7F02.
Popular Resources
You May Have Missed
➤ Recorded Webinar: RDMA for 10GigE Cameras

☰ Case Study: Automated Wood Surface Inspection

➤ Sneak Peek Video: Atlas10 + RDMA Camera Demo in Action

➤ Video: LUCID's AltaView™ On-Camera Tone Mapping Explained

➤ Video: Advanced Sensing With LUCID's SWIR and UV Cameras


| | |
| --- | --- |
| | Follow us on LinkedIn and YouTube for more updates on our technological innovations and useful resources. |