LUCID Newsletter 2023 Issue #1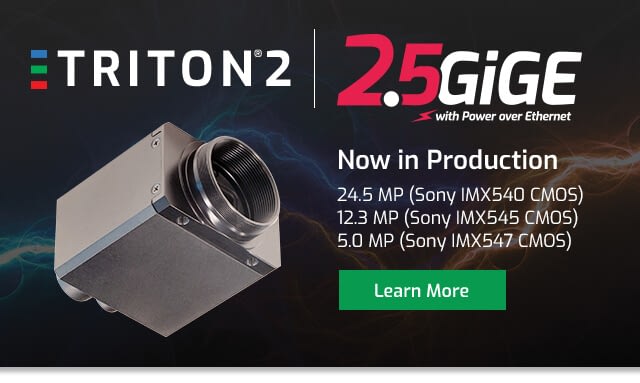 New Triton®2 IP67 2.5GigE Camera Models Available Now
The first models of the new Triton2 2.5GigE camera family are now available for order. These include Sony's Pregius S 5.0 MP (IMX547), 12.3 MP (IMX545), and 24.5 MP (IMX540) CMOS image sensors. You can easily upgrade your 1GigE cameras to 2.5GigE with the cost-effective and compact Triton2, which delivers higher bandwidth without compromising on size or thermal management. Learn more about the new Triton2 camera!


Product Updates
Helios2 Wide Available for Order

The new Helios2 Wide 3D Time-of-Flight camera features the Sony DepthSense™ IMX556PLR back-illuminated ToF sensor, paired with a wide-angle lens to provide a 108° x 78° field of view. Suited for applications with a close working distance and large area of operation such as full-size palettizing. Learn more.
Atlas IP67 5GigE Cameras Available Now

All Atlas IP67 5GigE camera models have been released and are now available for order. Ranging from 2.8 MP—24.5 MP, this Factory Tough™ Atlas camera family offers built-in IP67 protection for dustproof and water-resistant operation in industrial environments. Learn more.
New Video
Upcoming Events
SPIE Photonics West

Jan. 31—Feb. 2, San Francisco, California — Join us at SPIE Photonics West for a look at some of our latest cameras, including the Triton SWIR, Helios2 Wide, Atlas10+RDMA featuring Gpixel's GMAX3265 CMOS sensor, and the Triton EVS event-based camera with PROPHESEE's Metavision sensor. Booth #149.
Automation World Korea

March 8–10, Seoul, Korea — We'll be exhibiting in Seoul this year at Smart Factory and Automation World. Visit our Booth #B212 for live demos of some of our latest camera technologies.
Promat 2023

March 20–23, Chicago, Illinois — Visit LUCID at the Promat show for some exciting new products. Stay tuned. Booth #N8527
Popular Resources
You May Have Missed
☰ Case Study: Microsatellite Captures High Resolution Imagery with Atlas 31.4MP 5GigE Camera

➤ Quick Video: Lens Mounts Compared for the Phoenix Camera Module

☰ JupyterLab Resource Center: Downloadable Notebooks for OCR, Barcode Reading, and Object Detection

☰ Case Study: AI-Based Object Recognition for Maritime Navigation

➤ Video: Intro to JupyterLab Support in ArenaView with Example Barcode Reading


| | |
| --- | --- |
| | Follow us on LinkedIn and YouTube for more updates on technological innovations and resources from the LUCID Vision Labs team. |