LUCID Newsletter 2022 Issue #10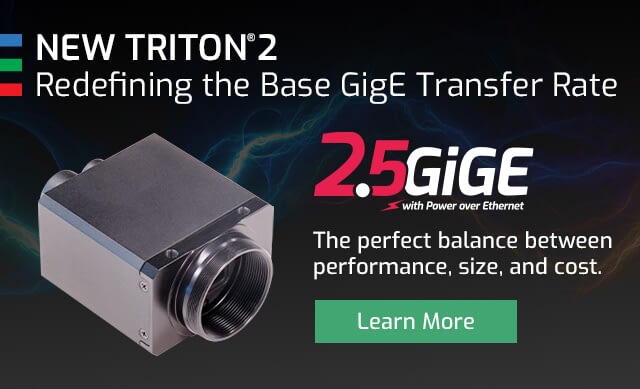 New Triton®2 IP67 2.5GigE Camera
Need faster acquisition speeds without making major changes to the backend system? Easily upgrade your 1GigE cameras to 2.5GigE with the cost-effective and compact Triton2, which delivers higher bandwidth than 1GigE cameras without compromising on size or thermal management. In addition, 2.5GigE bandwidth can reach typical industry benchmarks, such as 5 MP resolution at over 50 fps, in a compact and cost-effective camera design, which up until now were reserved for USB 3.0 cameras. Coming soon.


Product Updates
New Version of Arena Available

The latest release of LUCID's Arena SDK now supports ubuntu 22.04, including Arena SDK v0.1.68 for Linux x64 (ubuntu 18.04, 20.04, 22.04), and Arena SDK v0.1.48 for ARM 64 (ubuntu 18.04, 20.04, 22.04).
VISION 2022 Recap
| | |
| --- | --- |
| | It was great to meet with our customers and prospects in person at VISION this year. We revealed some of our latest technologies, including new 2.5GigE, 25GigE, 10GigE, multispectral, and 3D time-of-flight cameras, as well as event-based vision and edge computing cameras. Get a preview of upcoming cameras in our product showcase! |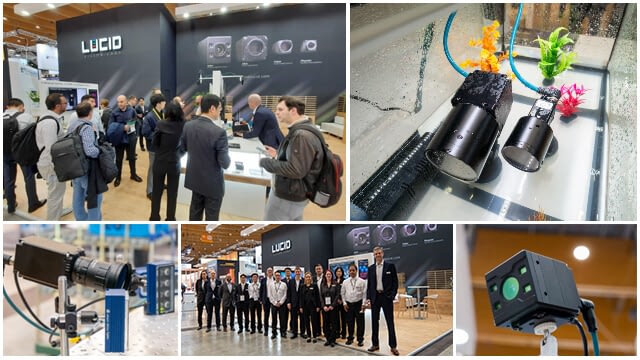 Industrial VISION Days Presentation
Advantages of JupyterLab for Machine Vision

We gave an Industrial VISION Days presentation about the benefits of using JupyterLab in ArenaView for machine vision, an open source, web-based, interactive, development tool that can be used to test, validate, and experiment with all camera features. Play Video.
Upcoming Events
SPS Show in Nuremberg

November 8–10, Nuremberg, Germany — SPS covers the entire spectrum of smart and digital automation – from simple sensors to intelligent solutions. Check out a demo of our Triton Edge all-in-one edge computing camera at the AMD Xilinx booth, Hall N.4 558.
Vision China Shenzhen

November 15–17, Shenzhen, China — Vision China Shenzhen presents the latest machine vision products and technologies at the Shenzhen World Exhibition and Convention Center. LUCID will showcase its latest camera technologies in the Speed Vision (our distributor in China) Booth #9G19.
Webinar: JupyterLab for Machine Vision

November 30, 9:15 AM (CET) — During this inVISION webinar, LUCID will present the benefits of JupyterLab for machine vision applications.
ITE Yokohama

December 7–9, Yokohama, Japan — At this year's International Technical Exhibition on Image Technology and Equipment in Yokohama, Japan, LUCID will showcase several new camera technologies, including 2.5GigE, 10GigE, 25GigE, 3D time-of-flight, and multispectral imaging. Visit Booth #D16!
Popular Resources
You May Have Missed
➤ Quick Video: Lens Mounts Compared for the Phoenix Camera Module

☰ JupyterLab Resource Center: Downloadable Notebooks for OCR, Barcode Reading, and Object Detection

☰ Case Study: AI-Based Object Recognition for Maritime Navigation

➤ Video: Intro to JupyterLab Support in ArenaView with Example Barcode Reading

➤ On-Demand Webinar: HDR Imaging for Automotive Sensing Applications


| | |
| --- | --- |
| | Follow us on LinkedIn and YouTube for more updates on technological innovations and resources from the LUCID Vision Labs team. |