LUCID Newsletter 2022 Issue #11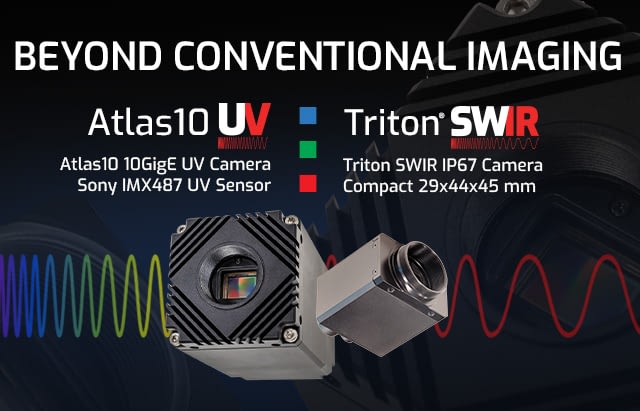 Beyond Conventional Imaging
New Atlas10 10GigE UV Camera

The Atlas10 UV is a 10GigE PoE+ camera. Featuring Sony's high-sensitivity UV 8.1 MP IMX487 sensor, it captures images across the ultraviolet light spectrum. This provides greater precision in applications involving transparent materials (plastic and PET), semiconductor inspection, materials sorting, and more.
New Triton SWIR IP67 Camera

The new compact and cost-effective Triton SWIR camera features wide-band and high-sensitivity Sony SenSWIR 1.3 MP IMX990 and 0.3 MP IMX991 InGaAs sensors, capable of capturing images across both visible and invisible light spectrums. The Factory Tough™ Triton SWIR offers IP67 protection, Active Sensor Alignment, and Power over Ethernet (PoE).
New Case Study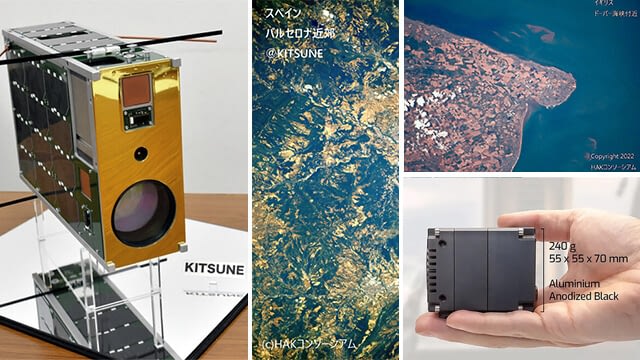 Microsatellite Captures High Resolution Imagery with
the Atlas 31.4MP 5GigE Camera
| | |
| --- | --- |
| | Learn about the Kitsune microsatellite, equipped with high-precision telescopes, high-speed communication devices, and twice the equipment capacity of existing microsatellites. The Kitsune uses our high resolution Atlas 5GigE camera, featuring Sony's IMX342 31.4 MP Pregius global shutter CMOS sensor, allowing for exceptionally low noise, wide dynamic range, and high quantum efficiency imaging from space. |
Resource Updates
App Note: Tonemapping for HDR Imaging with the Triton IMX490 Camera

This App Note illustrates different tonemapping methods using 24-bit imaging with the Triton TRI054S camera, featuring the Sony IMX490 HDR CMOS sensor.
Upcoming Events
Webinar: Embedded Vision & AI

November 30, 9:15 a.m. (CET) — During this inVISION Days webinar, LUCID presents the benefits of JupyterLab for machine vision applications. JupyterLab, a built-in and preconfigured interactive development environment, can be used to easily test and validate camera features and performance.
Webinar: World of 3D

December 1, 9:15 Uhr (MEZ) — During this inVISION Days webinar, LUCID discusses how to increase efficiency in robotics and automation with our Helios2 time-of-flight cameras, including the new Helios2 Wide field-of-view (FoV) camera.
ITE Yokohama

December 7–9, Yokohama, Japan — At this year's International Technical Exhibition on Image Technology and Equipment, LUCID showcases several new camera technologies, including 2.5GigE, 10GigE, 25GigE, 3D time-of-flight, and multispectral imaging. Visit Booth #D16!
SPIE Photonics West 2023

January 31 – February 2, San Francisco, California — We exhibit some of our latest camera technologies at SPIE Photonics West, the world's largest photonics technologies event. Visit us at Booth #149.
Popular Resources
You May Have Missed
➤ Quick Video: Lens Mounts Compared for the Phoenix Camera Module

☰ JupyterLab Resource Center: Downloadable Notebooks for OCR, Barcode Reading, and Object Detection

☰ Case Study: AI-Based Object Recognition for Maritime Navigation

➤ Video: Intro to JupyterLab Support in ArenaView with Example Barcode Reading

➤ On-Demand Webinar: HDR Imaging for Automotive Sensing Applications


| | |
| --- | --- |
| | Follow us on LinkedIn and YouTube for more updates on technological innovations and resources from the LUCID Vision Labs team. |