LUCID Newsletter 2023 Issue #7&8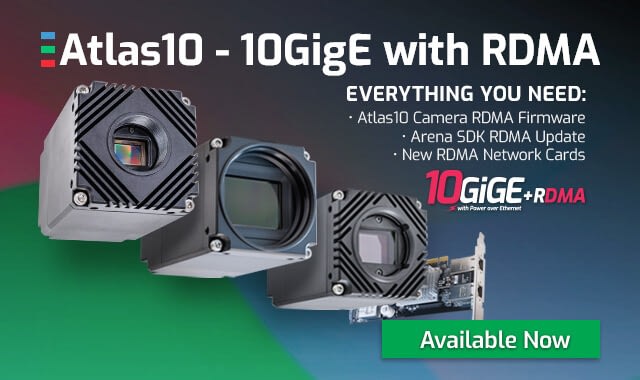 Atlas10 Cameras with RDMA Available Now
Uncover the power of Remote DMA (RDMA) with our Atlas10 - 10GigE cameras. All you need to get started is our updated Arena SDK version with RDMA support, a complimentary RDMA firmware upgrade for all existing Atlas10 camera models, and a selection of two compatible, cost-effective dual port 1G/10G PoE+ RDMA-enabled network interface cards.

RDMA-enabled Atlas10 - 10GigE cameras bypass the CPU bottleneck to stream up to 1.2GB/s data directly to main memory. This increases throughput, lowers latency, and eliminates CPU usage, which are required for reliable multi-10GigE camera applications. Get started with RDMA!

Product Updates
Atlas10 camera with Sony IMX342

The new Atlas10 - 10GigE camera featuring Sony's IMX342 sensor is available to order. The 31.4MP ATX314S can achieve a full sensor frame rate of 35FPS, making it ideal for flat panel display (FPD) inspection, semiconductor inspection, aerial surveillance, and metrology. Learn More
Triton2 - 2.5GigE Camera Models

More Triton2 - 2.5GigE camera models are coming soon, including models featuring Sony's 1.6MP IMX273, 2.3MP IMX392, 5.0MP IMX264, and 12.3MP IMX304 sensors. Learn More
Right Angle Amphenol Cables

We've added additional right-angle Amphenol M12 & M8 cables, ranging from 5–15 metres. These high-quality industrial IP67 Cat6a cables have a bending radius of 100mm, offering more cost-effective and rugged solutions for your next application. See Cables
TFL-II Mount to Canon EF-Mount Adapter

The TFL-II Mount to Canon EF-Mount Birger Adapter has an M8 GPIO camera connection and power supply and can be used with any Canon EF lens on any Atlas10 TFL-II Mount model. The M8 connections allows users to electronically focus the lens through serial commands. Learn More
Resource Updates
Knowledge Base: Using LUCID's TFL- and TFL-II Mount Adapters for EF Lenses

Learn the commands that control and focus an EF lens with a Birger adapter. LUCID's TFL-Mount adapter for EF lenses lets you mount any Canon EF lens on TFL-Mount Atlas10/Atlas models. The new TFL-II Mount adapter lets you do the same with Atlas10 models with TFL-II Mount. Read Article
Upcoming Events
Vision China Shenzhen

Oct 30–Nov 1, Shenzhen, China — We'll be showcasing our latest cameras, including this year's VSD Platinum Award winning Atlas10 camera with RDMA, and the Silver Award winning Helios2 Wide ToF camera.
Popular Resources
You May Have Missed
☰ New Case Study: Automated Wood Surface Inspection

➤ Sneak Peak Video: Atlas10 + RDMA Camera Demo in Action

➤ Video: LUCID's AltaView™ On-Camera Tone Mapping Explained

➤ Video: Advanced Sensing With LUCID's SWIR and UV Cameras

☰ White Paper: Remote Direct Memory Access (RDMA) With Atlas10 Cameras


| | |
| --- | --- |
| | Follow us on LinkedIn and YouTube for more updates on our technological innovations and useful resources. |