Download White Paper
Triton Edge: The Promise Of Industrial Embedded Vision Systems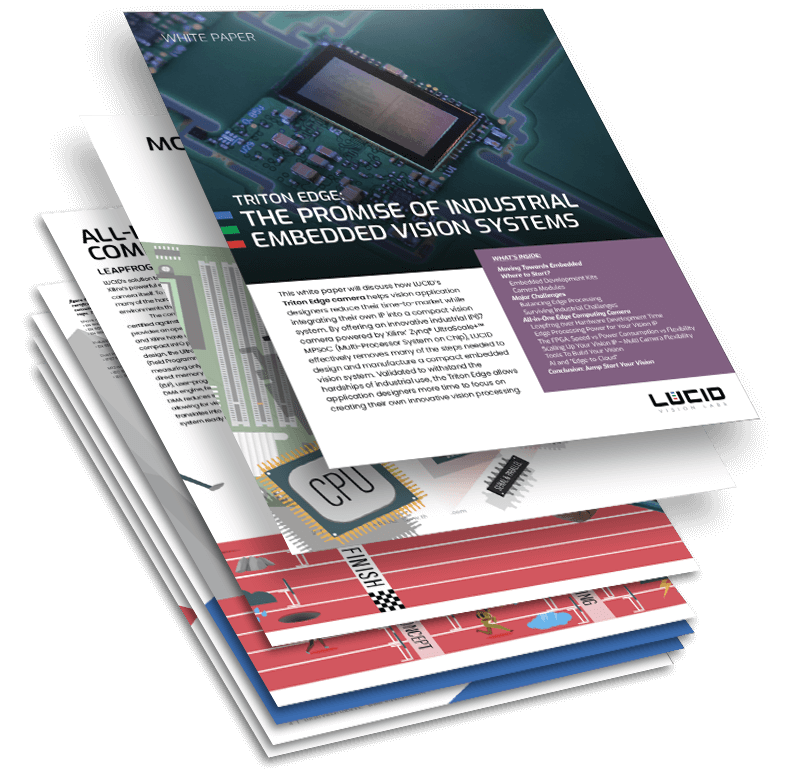 Learn how LUCID's Triton Edge camera helps vision application designers reduce their time-to-market while integrating their own IP into a compact vision system. By offering an innovative industrial IP67 camera powered by Xilinx®' Zynq® UltraScale+™ MPSoC (Multi-Processor System-on-Chip), LUCID effectively removes many of the steps needed to design and manufacture a compact embedded vision system. Validated to withstand the hardships of industrial use, the Triton Edge allows application designers more time to focus on creating their own innovative vision processing.
What's Inside:
Moving Towards Embedded
Where to Start?
• Embedded Development Kits
• Camera Modules
Major Challenges
• Balancing Edge Processing
• Surviving Industrial Challenges
All-in-One Edge Computing Camera
• Leapfrog over Hardware Development Time
• Edge Processing Power for Your Vision IP
• The FPGA: Speed vs Power Consumption vs Flexibility
• Scaling Up Your Vision IP – Multi Camera Flexibility
• Tools To Build Your Vision
• AI and "Edge-to-Cloud"
Conclusion: Jump Start Your Vision
After clicking "submit" a download link will be provided.
(English, Japanese, & Chinese PDF versions available for download)