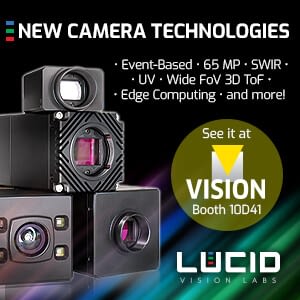 Richmond, BC, Canada – August 26, 2022 – LUCID Vision Labs, Inc., a designer and manufacturer of unique and innovative industrial vision cameras, will be showcasing a variety of new camera technologies and innovations at VISION from Oct 4-6, 2022 in Stuttgart, Germany.
The Triton® camera family is welcoming new additions offering advancements in vision technologies as well as image sensors. These include the Triton Edge all-in-one edge computing camera utilizing AMD Xilinx's Zynq® UltraScale+™ technology with multi-processor functionality and user programmable FPGA accessibility, and the new Triton EVS camera using PROPHESEE's Metavision® event-based sensor. Furthermore, LUCID is enabling SWIR imaging in Triton's IP67-rated compact form factor, featuring wide-band and high-sensitivity Sony SenSWIR 1.3 MP IMX990 and 0.3 MP IMX991 InGaAs sensors, capable of capturing images across both visible and short-wave infrared light spectrums.
Two new models within LUCID's high-end Atlas® 10GigE camera portfolio will be unveiled. The 65-megapixel Atlas10 will be LUCID's highest resolution camera and features the Gpixel GMAX3265 image sensor. The 65 MP GMAX3265 sensor is sized to fit comfortably behind a 35 mm lens, making it a cost-effective solution for applications ranging from high-end surveillance to high resolution inspection. In addition, the 8.1 MP Atlas10 camera utilizing the new Sony IMX487 ultraviolet (UV) sensor will also be shown for the first time. The IMX487 sensor with UV imaging capability features the global shutter function and high-speed operation of Sony's Pregius S technology.
LUCID is expanding its Helios®2 3D Time-of-Flight camera family with new variants such as the Helios2 Wide Field of View (FoV). Helios2 Wide integrates Sony's DepthSense™ IMX556PLR back-illuminated ToF image sensor paired with a wide-angle lens providing a 108º angle of view. The wide field of view is well suited for applications with a close working distance and large area of operation such as full-size palettizing applications. The camera delivers 640 x 480 depth resolution at up to an 8.3 meter working distance and a frame rate of 30 fps. Stay tuned for more product highlights to be unveiled at the show floor.
At the Industrial VISION Days 2022 organized by VDMA Machine Vision, LUCID's Product Marketing Manager, Alexis Teissie will give a presentation titled "The Advantages of JupyterLab for Machine Vision" on October 6th at 2.20 pm.
Come and see LUCID at VISION 2022 from October 4-6, 2022 in Stuttgart, Germany at Booth 10D41.