LUCID Newsletter 2021 Issue #2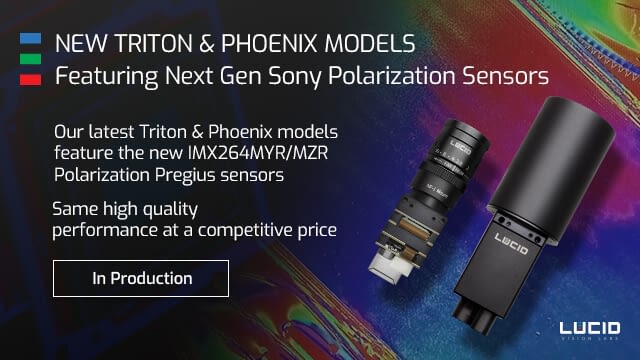 New Camera Models Feature the Latest
Sony Polarization CMOS Sensors
Sony's next generation of polarization sensors has arrived, offering high quality polarized imaging at a significantly lower price point. Our Triton™ and Phoenix™ 5.0 MP polarized cameras feature the new IMX264MYR (color) and IMX264MZR (mono) polarized sensors with the same imaging performance as previous models. See prices below.

Triton Polarized Camera

5.0 MP Sony Pregius IMX264MZR/MYR CMOS
Rugged form factor that's IP67 ready
M12/M8 GigE PoE
USD $1250
Phoenix Polarized Camera Module

5.0 MP Sony Pregius IMX264MZR/MYR CMOS
Transformable design for easy OEM integration
RJ45, ix Industrial, or FCC GigE PoE
USD $1100
When & How to Use Polarization?
Polarization offers powerful inspection techniques whether it's detecting hidden scratches in transparent materials, inspecting reflective objects, or even analyzing 3D depth data without the need for a traditional 3D camera. Check out the latest Use Cases that illustrate the effective use of polarization cameras.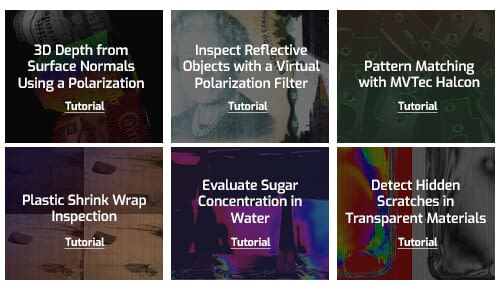 Product Updates
Atlas10 5.0, 8.1 & 12.3 MP Pregius Models

Three new Atlas10 models featuring 10GBASE-T GigE PoE are available to order. Atlas10 IMX537 (5.0 MP), and IMX536 (8.1 MP), and IMX535 (12.3 MP) 4th Gen Pregius models deliver excellent image quality at high resolutions and fast frame rates.
Triton 5.0, 8.1, & 12.3 MP Pregius Models

We've added three new Triton 4th Gen Pregius models featuring the IMX547 (5.0 MP), IMX546 (8.1 MP), and IMX545 (12.3 MP) sensors, delivering superior quality imaging thanks to Sony's proprietary back-illuminated pixel structure. Triton GigE cameras are IP67 ready and available to order.
New Video
Phoenix: Flexible Camera Module for Easy OEM Integration

Our latest video on the super compact and transformable Phoenix GigE PoE camera module demonstrates how easy it is to customize with multiple lens mounts, different camera orientations, and port connector options. Explore all the features online.
Did You Know?
Did you know Ethernet does not respond to interference from wireless devices?

Ethernet operates at a much lower frequency than Wi-Fi, Bluetooth, Zigbee, cordless phones, microwaves, and certain power sources which emit RF signals in 2.4 GHz frequency range. This makes GigE Vision cameras and Ethernet components unlikely to respond to interference or interfere with wireless devices. This along with shielded Ethernet cabling and isolation transformers with common mode chokes built into the Ethernet standard make it an excellent choice for industrial applications. Learn more about the efficiency and reliability of Gigabit Ethernet in our Tech Brief.
Event Updates
Vision China Shanghai - Seminar

At the Shanghai trade show this year, Felix Ye, Field Application Engineer at LUCID, will present "Bin Picking with the Helios™2 ToF camera". Learn how to improve point clouds when imaging challenging objects such as shiny metals or plastics, maximizing the 3D depth performance of automation tasks.
AIA Webinar - 3D Imaging and Technology Trends

Join us on March 11, 2021 for an AIA webinar, where David Dechow will present on 3D technology trends in machine vision, examining the latest technologies and applications, as well as practical implementation, benefits and limitations.
| | |
| --- | --- |
| | Follow us on Linkedin and Youtube for more of the latest updates on technological innovations & resources by the LUCID Vision Labs team. |
| | |
| --- | --- |
| | Webstore Orders Made Easy. LUCID offers the convenience of a webstore to easily purchase our full line of cameras and accessories from the US, Canada, EU, Australia, and New Zealand. A future expansion of our webstore is planned to other countries as well. Stay tuned! Visit Our Webstore. |