At this year's Smart Factory + Automation World (March 8-10, 2023, in Seoul, Korea), LUCID will be showcasing its latest camera innovations and technologies used for a wide range of industrial application. See below our product highlights.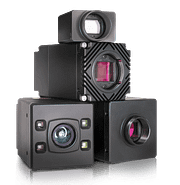 High-Speed Ethernet Cameras: 2.5GigE, 10GigE + RDMA and 25GigE
The new Triton2 2.5 GigE camera sets a new standard for the base GigE transfer rate featuring the latest Sony Pregius S Sensors ranging from 5.0 MP to 24.5 MP. The Atlas10 with RDMA reliably streams 1.2 GB/s of data directly to main memory, bypassing the CPU and OS. This increases throughput, lowers latency, and eliminates CPU usage, which is required for reliable multi-10GigE camera applications. The 65 MP Atlas10 is LUCID's highest resolution camera and features the Gpixel GMAX3265 image sensor. Finally, the new Atlas25 features a 25GigE SFP28 interface allowing Pregius S sensors to run at high bit depths, while providing a reliable connection with ultra high frame rates.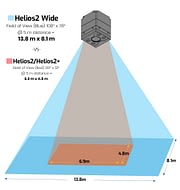 Helios2 Wide 3D Time-of-Flight Camera
Helios2 Wide integrates Sony's DepthSense™ IMX556PLR back-illuminated ToF image sensor paired with a wide-angle lens providing a 108º angle of view, suited for applications with a close working distance and large area of operation such as full-size palettizing applications. The Helios2 Wide IP67 Factory Tough™ 3D camera delivers 640 x 480 depth resolution at up to an 8.3 meter working distance and a frame rate of 30 fps.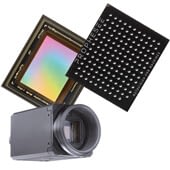 Triton EVS Event-Based Camera
Featuring the Prophesee Metavision® sensor, the Triton EVS camera provides event-based data. Instead of taking frames, event-based pixels continuously sample the incoming light and generate signal only when the light level changes. Event-based vision opens new industrial applications as it significantly improves performance, lowers power consumption, and provides a more flexible solution for machine vision applications such as motion analysis, vibration monitoring, object tracking, optical flow, autonomous driving, high-speed detection and tracking among others.
Presentation at SFAW 2023 Conference
LUCID will be presenting at the SFAW Conference on March 9th at 3.30-4.20 pm. Our presentation titled "Latest Innovations in Machine Vision Camera Technologies – Faster GigE, Advanced Sensing, and 3D ToF" will cover LUCID's newest camera technologies such as 10GigE+RDMA, 25GigE, SWIR/UV, 3D Time-of-Flight etc., and will be presented by Brian Cha, Product Marketing Manager at LUCID.
Visit LUCID at Smart Factory + Automation World from March 8-10, 2023, in Soul, Korea in Booth #B212.