LUCID Newsletter 2021 Issue #1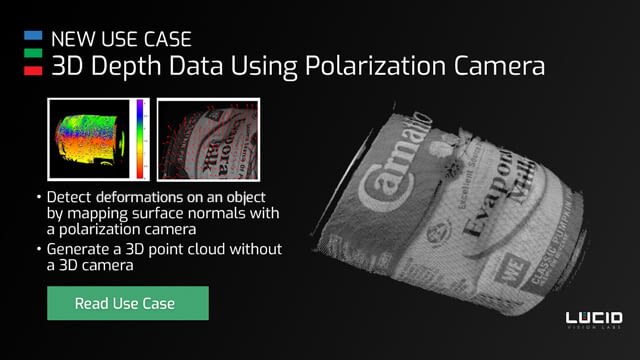 New Use Case:
How to get 3D Depth of an Object Using Polarization
Our latest Polarization use case explores how a polarization camera can detect deformations in a 3D object using surface normals, generating a 3D point cloud without the need for a traditional 3D camera. LUCID's Phoenix and Triton polarization cameras can obtain AoLP, DoLP, and polarization intensity data from light reflected from an object to estimate where surface normals might differ from surrounding normals, signifying damaged areas on an object (i.e. a metal can). The polarization data can then be used to construct a 3D point cloud.

Product Updates
IMX490 HDR Sensor Demo

High dynamic range capability is vital for decision making in ADAS driving algorithms. This demo of Triton featuring Sony's IMX490 HDR sensor captures details of a scene in bright light conditions better than a traditional sensor. The Triton camera achieves both 120dB of dynamic range and LED Flicker Mitigation at 5.4 MP resolution, capturing a wider angle view in conditions of extremely low, bright, or flickering light.
Lens adapter connects Canon & TFL lenses

Connect and control Canon EF lenses on the Altas10 or Atlas TFL mount models with the Birger EF lens to TFL-mount lens adapter. This lightweight lens adapter uses the camera's GPIO M8 connector to electronically focus the EF lens through serial commands sent through LUCID's Arena SDK.
Dual-port 10 GigE card from IOI

Add two 10GbE networking ports while minimizing system costs and requirements. This card is a dual-chip, dual-port, high-performance PCIe 3.0 Multi-Gig 10GBASE-T/ 5GBASE-T/ 2.5GBASE-T/ 1000BASE-T/ 100BASE-TX Ethernet adapter, delivering reliable high-speed connections for your Atlas10 or Atlas camera.
New Resources
Controlling EF Lens Using LUCID's TFL to EF Lens Adapter

View instructions on how to control a Canon EF lens with the Birger TFL to EF mount adapter. Using LUCID's serial implementation, the non-opto isolated pins on the Atlas10/Atlas GPIO can be used to send commands to the EF lens controller to focus an EF lens.
Did You Know?
Did you know Triton cameras can withstand physical shocks and vibration?

Our Triton IP67 GigE cameras are rigorously shock and vibration tested up to 20g (G-force), ready for environments with abrupt changes in direction or accidental impacts like industrial manufacturing, automotive, and mobile robotics. Learn more about what makes a camera Factory Tough™ in our latest White Paper:
Event Updates
Vision China – Shanghai
LUCID will be exhibiting from March 17 – 19, 2021 at Vision China, which will be held in the New International Expo Center in Shanghai. As the No.1 machine vision show in China, Vision China (Shanghai) showcases the industry core components. With the gartering of experts, researchers and technicists from all kinds of application industries.
| | |
| --- | --- |
| | Follow us on Linkedin and Youtube for more of the latest updates on technological innovations & resources by the LUCID Vision Labs team. |
| | |
| --- | --- |
| | Webstore Orders Made Easy. LUCID offers the convenience of a webstore to easily purchase our full line of cameras and accessories from the US, Canada, EU, Australia, and New Zealand. A future expansion of our webstore is planned to other countries as well. Stay tuned! Visit Our Webstore. |