LUCID Newsletter 2021 Issue #7/8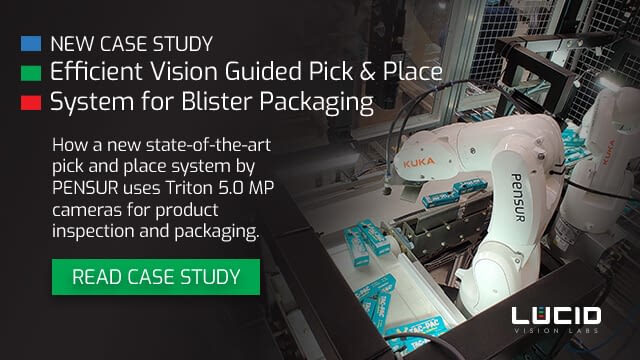 Efficient Vision Guided Pick & Place System for Blister Packaging
A new and efficient vision guided solution for product inspection and packaging allows for a reduction in manual labour and increased productivity. PENSUR's pick & place robot uses custom computer vision software combined with LUCID's 5.0 MP Triton color cameras to accurately identify, locate, and package a variety of products, merging into one station what would previously have been a two station process. Read the case study and see the robots in action in the video!
Product Updates
Atlas IP67 Models - Shipping Now

The first models of the Atlas IP67 5GBASE-T camera line are now available, including the 7.1 MP featuring Sony IMX420 and 20.0 MP with Sony IMX183 CMOS sensors. Atlas cameras offer high resolution and fast frame rates over standard Ethernet cable up to 100m.
Phoenix 4th Gen Pregius S – Coming Soon

The ultra-compact Phoenix camera module will feature 4th Gen Sony Pregius S CMOS back-illuminated global shutter sensors. Phoenix offers maximum flexibility with multiple lens mounts, body orientations, and Ethernet interface options.
New Video
The Atlas 5GigE Camera

Learn about the cost and time saving benefits of the 5GigE interface with LUCID's Atlas 5GBASE-T camera series, including the newest Atlas IP67 models. Our latest video compares 5GigE to USB3 and 10GigE, discusses benefits of IP67 models, Ethernet for industrial applications, large format sensors and more.
Event Updates
Vision China Beijing - Recap

We had busy days this July at the Vision China show in Beijing, where we showcased our Atlas10, Helios2 ToF + RGB and Triton IMX490 HDR cameras. Kudos to the LUCID team in China!
VisionCon in Shenzhen - Recap

We recently attended VisionCon in Shenzhen and gave a presentation about the efficient use of Time-of-Flight cameras for bin picking applications. The conference was well attended and allowed us to showcase a "live demo" of our Helios2 ToF camera to a number of attendees interested in 3D camera technology.
| | |
| --- | --- |
| | Follow us on Linkedin and Youtube for more of the latest updates on technological innovations & resources by the LUCID Vision Labs team. |
| | |
| --- | --- |
| | Webstore Orders Made Easy. LUCID offers the convenience of a webstore to easily purchase our full line of cameras and accessories from the US, Canada, EU, Australia, and New Zealand. A future expansion of our webstore is planned to other countries as well. Stay tuned! Visit Our Webstore. |