LUCID Newsletter 2021 Issue #6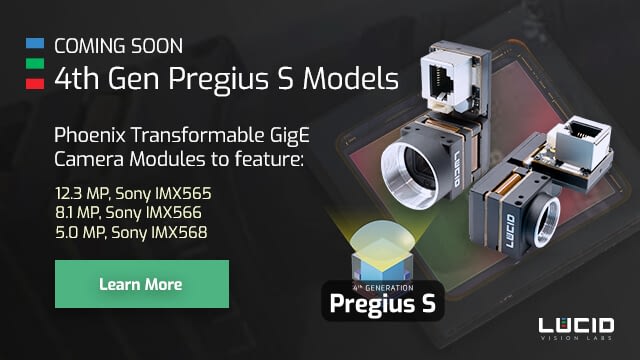 New Phoenix 4th gen Pregius S models
New Phoenix camera modules are on their way, featuring the 4th Gen Sony Pregius S CMOS back-illuminated global shutter sensors, for high sensitivity and high dynamic range, in a compact sensor size.

The Phoenix is a super compact, 24x24mm or 28x28mm, GigE camera module designed for easy OEM integration; it offers maximum flexibility with multiple lens mounts, body orientations, and Ethernet interface options. See a full configuration list on the Phoenix product page.
Product Updates
Triton Edge - Coming in Q3

Soon engineers and developers can build their own camera IP with unique image processing without the need to start from scratch. The Triton Edge is an all-in-one edge computing camera, featuring Xilinx's Zynq Ultrascale+ technology with multi-processor fuctionality and user programmable FPGA accessibility. If you are interested in developing your own on-camera application, please sign up to learn more about Triton Edge.
New Resources
White Paper: Triton Edge – The Promise of Industrial Embedded Vision Systems

Learn how vision application designers can reduce time-to-market while integrating their own IP into a compact vision system using the Triton Edge camera, which features Xilinx' Zynq® UltraScale+ ™ MPSoC (Multi-Processor System on Chip). This white paper adresses the major challenges of edge processing and introduces the solution with an all-in-one industrial edge computing camera.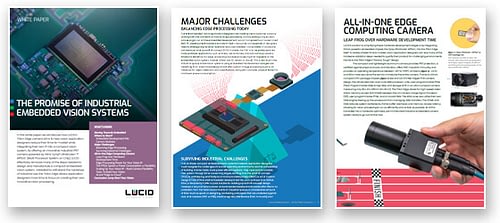 The Triton Edge can effectively remove many of the steps needed to design and manufacture a compact embedded vision system with a hardware optimized, pre-miniaturized industrial embedded camera system ready to go out-of-the-box.
Tech Brief: The Factory Tough™ Camera

Get details on what makes a camera Factory Tough. Only a camera that has met certain criteria and standards is truly ready for 24/7 industrial operation in conditions like wide ranging temperatures, vibrating machinery, dust, moisture, and electromagnetic noise. Learn how to choose a reliable industrial camera that has met the necessary tests and standards.
Event Updates
Vision China Beijing *Date Change*

*Moved to July 21-22, 2021* - LUCID will be showcasing the Atlas10, Helios2 + RGB and Triton IMX490 cameras at Vision China Beijing, which brings the latest machine vision products and technologies for visitors to explore. The show includes various industries such as automotive, electronics, computer and peripheral products, semiconductor, system integrators and more.
| | |
| --- | --- |
| | Follow us on Linkedin and Youtube for more of the latest updates on technological innovations & resources by the LUCID Vision Labs team. |
| | |
| --- | --- |
| | Webstore Orders Made Easy. LUCID offers the convenience of a webstore to easily purchase our full line of cameras and accessories from the US, Canada, EU, Australia, and New Zealand. A future expansion of our webstore is planned to other countries as well. Stay tuned! Visit Our Webstore. |