LUCID Newsletter 2021 Issue #5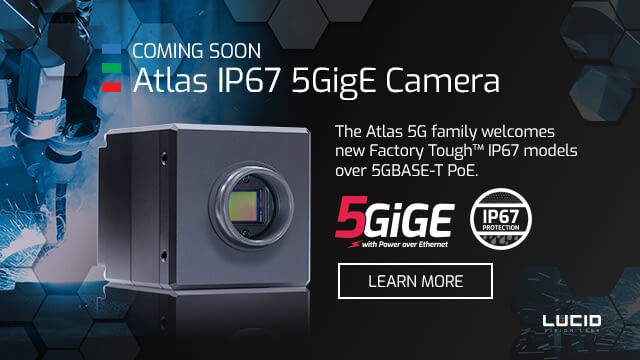 New IP67 Atlas Models Coming Soon
The Atlas IP67 5GBASE-T product line is on its way and will feature a range of popular global and rolling shutter sensors with built-in IP67 protection, offering high resolutions and fast frame rates with Power over Ethernet up to 100m. The Atlas IP67 camera family will range from 2.8 MP to 24.5 MP resolution.

The first models will include the ATP071S 7.1 MP featuring the Sony IMX420 CMOS sensor running at 74.6 fps and the ATP200S 20.0 MP with the Sony IMX183 CMOS sensor at 17.8 fps. Coming at the end of Q2.
Product Updates
Firmware Updates for Atlas, Triton & Phoenix Cameras

A new firmware version is available for several Phoenix, Triton and Atlas camera models. This version includes new features, performance enhancements, as well minor bug fixes and stability improvements.
VSD 2021 Innovators Award for Helios2

The Helios2 Time of Flight camera was recognized with a VSD Innovators Award this year in the '3D Camera' category. The Helios2 is built Factory Tough™ with IP67 protection and maximizes the performance of Sony's DepthSense IMX566PLR back-illuminated CMOS sensor, achieving high accuracy with sub-millimeter precision.
New Resources
Video: Maximizing Frame Rates for Ethernet Cameras

Get some quick tips on maximizing frame rates in your 5G or 10G Ethernet camera. In this video, we'll go over the network interface card settings necessary for Jumbo Frames, Receive Buffers, Interrupt Moderation, and Speed and Duplex. Bonus tip includes squeezing extra frame rates out of your camera!
KB Article: Atlas10 multiple camera set-up

Learn how to get multiple Atlas10 GigE cameras connected to stream simultaneously in ArenaView and operate at maximum frame rate. Get the specs for RAM, GigE cards, and motherboard necessary to run 3 cameras for a steady high speed vision system with no dropped frames.
KB Article: Auto Exposure / Auto Gain

LUCID cameras come with the ability to set automatic exposure and gain. Including the Phoenix, Triton, Atlas, and Atlas10 cameras, we cover turning on the auto exposure algorithm, using target brightness, setting limits, and applying auto exposure to a specific AOI.
Did You Know?
Did you know that the upcoming Atlas IP67 models are 100% compatible with same IP67 lens tubes used for the Triton cameras?
Connecting an IP67 lens tube and cables to the Triton or Atlas IP67 cameras allows them to operate in environments where dust, dirt, and water are present up to IP67 thresholds. See our lens options!
Event Updates
Vision China Beijing

June 24-25, 2021 - LUCID will be showcasing the Atlas10, Helios2 + RGB and Triton IMX490 cameras at Vision China Beijing, which brings the latest machine vision products and technologies for visitors to explore. The show includes various industries such as automotive, electronics, computer and peripheral products, semiconductor, system integrators and more.
| | |
| --- | --- |
| | Follow us on Linkedin and Youtube for more of the latest updates on technological innovations & resources by the LUCID Vision Labs team. |
| | |
| --- | --- |
| | Webstore Orders Made Easy. LUCID offers the convenience of a webstore to easily purchase our full line of cameras and accessories from the US, Canada, EU, Australia, and New Zealand. A future expansion of our webstore is planned to other countries as well. Stay tuned! Visit Our Webstore. |