LUCID Newsletter 2020 Issue #9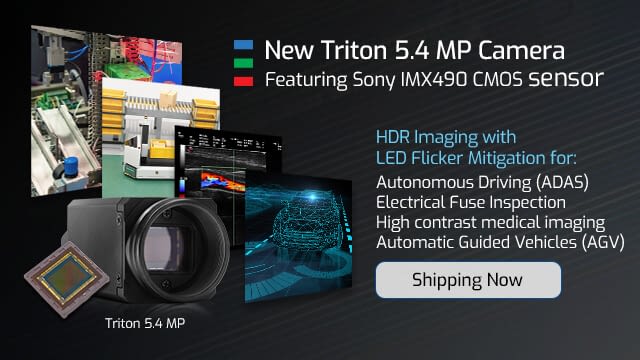 5.4 MP Triton featuring Sony's IMX490 CMOS Sensor – Shipping Now!
The Triton TRI054S featuring the IMX490 (BSI) back-illuminated stacked CMOS sensor allows for simultaneous 120dB HDR imaging and LED flicker mitigation. With the large 5.4 MP, 2880 x 1860 px resolution, this camera enables wide-angle shooting in both daytime and nighttime for Advanced Driver Assistance Systems (ADAS) / Autonomous Driving. This camera model is also well suited for other applications that demand very high HDR imaging such as electrical fuse inspection; high contrast medical imaging; Automatic Guided Vehicles (AGV); as well as other ITS applications. Shipping Now.
Product Updates
New Arena SDK & ArenaView GUI Feature

To help analyze and display the Triton IMX490's new higher bit-depths, two new tools have been added to the Arena SDK and ArenaView. The Bit Selection tool allows for the selection of bits to focus on and display, providing access to data hiding in the shadows. The Software-processed Look Up Table adds the ability to dynamically redefine image data, allowing you to maximize visual data around values that are most useful. Download latest Arena software.
New 24V PLC Compatible Optical Input on Triton Cameras

Electrically noisy industrial environments can cause false triggering due to noise on the trigger line of a camera's opto-isolated input. To mitigate this, Triton now has a programmable switching threshold, which can switch between PLC logic level (24V logic) and standard low level logic (3.3V or 5V) based on user selection set through Arena. Now the camera trigger can connect directly to other industrial devices utilizing 24V logic without a need for logic level conversion circuits or custom cables. This feature is rolling out at different times for various Triton models. Please contact sales to learn more.
New Resources
Knowledge Base: New 4th Gen Sony Pregius S Features Supported by LUCID Cameras

Sony's new 4th generation Pregius S CMOS sensors are now available in LUCID's Atlas10 and Triton line of cameras. Our newest Knowledge Base article addresses the new features the 4th gen sensors have over previous generations – how they work and how to use them in LUCID's ArenaView software. Read more.
Knowledge Base: Using LUCID's TRI054S IMX490 in ArenaView

The Triton TRI054S featuring the IMX490 (BSI) back-illuminated stacked CMOS sensor allows for simultaneous 120 dB HDR imaging and LED flicker mitigation. Find instructions on how to use the TRI054S-CC in ArenaView, which include changing pixel formats, HDR image processing, Bit Depth display, and LUT control. Read more.
Event Updates
SCIIF – South China International Industry Fair
LUCID will be exhibiting at the SCIIF trade show in Shenzhen from October 12-15, 2020. which focuses on intelligent manufacturing, industrial robots, intelligent control systems, mechanical transmission systems, machine vision and industrial IoT. LUCID will be showcasing its newest Helios2 ToF camera, the Atlas10, and the latest Triton models. Visit us in booth#12-E33.
Vision China Shenzen
LUCID will be exhibiting along with our local distributor Speed Vision at the upcoming Vision China Shenzhen show from November 3-5, 2020. After the success of Vision China Shanghai in July this year, LUCID is looking forward to seeing customers face-to-face during the Vision China Shenzhen show. Visitors can expect to see LUCID's latest camera technology on the show floor.
ITE Yokohama
From Dec 2-4, 2020 the International Technical Exhibition on Image Technology and Equipment (ITE) is scheduled to take place in Yokohama, Japan. LUCID will be exhibiting again and bringing its latest machine vision cameras to the show floor including the new Helios2 Time-of-Flight and Atlas10 cameras featuring the 4th generation Sony Pregius S sensors.
| | |
| --- | --- |
| | Webstore Orders Made Easy. LUCID offers the convenience of a webstore to easily purchase our full line of cameras and accessories from the US, Canada, EU, Australia, and New Zealand. A future expansion of our webstore is planned to other countries as well. Stay tuned! Visit Our Webstore. |