LUCID Newsletter 2020 Issue #2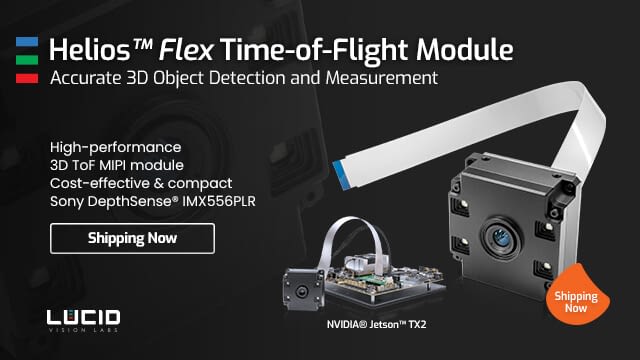 Helios™Flex Time-of-Flight Module - Accurate 3D Object Detection and Measurement
We're pleased to announce that the Helios™ Flex Time-of-Flight module has now entered series production. Helios Flex is a robust, pre-calibrated Time-of-Flight MIPI module which can easily be integrated into embedded platforms for industrial and robotics applications. The module features Sony's DepthSense IMX556PLR back-illuminated ToF image sensor and has four 850nm VCSEL laser diodes. It connects to an embedded system using the NVIDIA® Jetson™ TX2 and delivers 640 x 480 depth resolution at up to 6 meters distance. The Helios Flex module includes a Software Development Kit (SDK) with GPU-accelerated depth processing and runs at 30 frames per second. Shipping now!
Featured Products
Arena Flex SDK
Our Arena Flex SDK includes easy to use controls for the Helios Flex ToF module. Its GUI can show the intensity and depth of a scene in either a 2D view or a 3D point cloud view, which can be manipulated and oriented in real-time. Settings can be adjusted and seen in real-time, including false color overlay and depth range. The Arena Flex SDK is available for download.

Atlas with no lens mount
The 31.4 MP Atlas model over 5 GBASE-T PoE will soon be available without a lens mount front. This will enable customers to mount their own custom optics or filter providing closer access to the sensor package. The image sensor will still be actively aligned just like the other Atlas models. If you're interested in the no lens mount option, please contact our Sales team.

Triton IP67 for industrial automation
Cameras with IP67 rating are extremely effective in harsh environments where vision systems are exposed to water, dust, dirt, extreme temperatures, vibrations and shock. The Triton camera offers a complete IP67 camera package incl. various IP67 sealed lens tubes, robust M12 Ethernet and M8 GPIO cables for 24/7 industrial use. See our IP67 products.
Did You Know?
| | |
| --- | --- |
| | Did you know how many different camera configurations the Phoenix camera offers? With 4 lens mounts, 3 camera orientations, 3 interface connector options, and a wide selection of sensors ranging from 0.4 MP to 20 MP, the Phoenix GigE PoE camera line has a total of 264 different variations. With all these options, and 24x24 mm or 28x28 mm size, the Phoenix camera is designed for maximum flexibility and easy OEM integration. See more configurations. |
Event Updates
Automation World Korea *cancelled* In order to control the Coronavirus COVID-19 epidemic and guarantee the health and safety of the exhibitors and visitors, the organizers of Smart Factory + Automation World 2020 have determined to cancel the show, scheduled to be held from March 4-6, in Seoul Korea.

Vision China Shanghai *postponed* The Vision China show, scheduled to take place in Shanghai from March 18-20, will be postponed. This is due to the outbreak of Coronavirus in the country, and is in line with the authorities' attempts to contain the spread of infection. A new date for the exhibition is to be determined.

Control 2020
At Control Vision Talks in Stuttgart, Torsten Wiesinger, General Manager EMEA, will give a presentation titled "Time-of-Flight design tips to boost 3D performance and cut integration times". When: May 5, 2020 at 11 am. Where: Hall 8, Stand 8507.
| | |
| --- | --- |
| | Webstore Orders Made Easy. LUCID offers the convenience of a webstore to easily purchase our full line of cameras and accessories from the US, Canada, Australia, and New Zealand. A future expansion of our webstore is planned to other countries as well. Stay tuned! Visit our Webstore. |