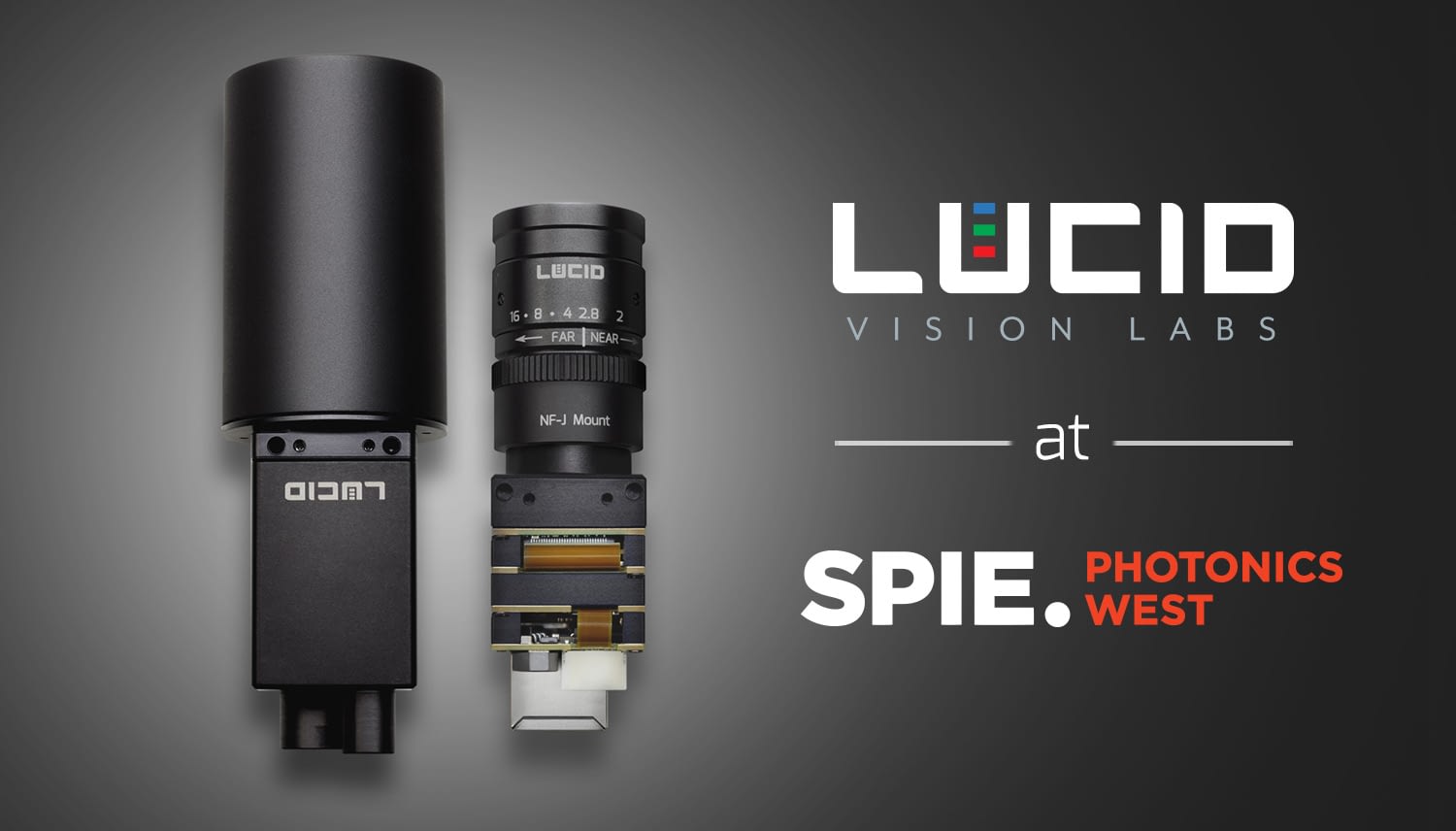 Lucid Vision will be kicking off the 2018 trade show season with its first appearance at SPIE Photonics West from Jan 30 – Feb 1, 2018 in San Francisco in booth #4411. Visitors will see live demos of two new camera families – the Phoenix, the world's smallest GigE PoE camera measuring only 24 x 24 mm and the compact Triton IP67 GigE Vision camera.
The Phoenix camera is truly unique in the machine vision industry, featuring NF-mount and lens options to provide an even smaller footprint, as well as an ix Industrial™ Ethernet connector which takes 70% less space than RJ45 sockets.  Its unique four board design creates a micro compact and light weight form factor, making the camera easy to integrate into OEM products and systems. The Phoenix board layout has been folded into a stacked camera where it resembles a traditional cased camera shape. However, individual board stacks can be unfolded and used in a 90° or 180° angle orientation to allow for more flexibility in system design. The first Phoenix models to be launched in Q1 2018 will feature 3.2 to 5.0 Megapixel using the IMX265 and IMX264 Sony Pregius CMOS sensors, and additional models will be added later in the year.
The Triton IP67 camera features a dust proof and water-resistant camera enclosure and lens tube designed to be used in a variety of industrial environments such as food inspection and agriculture where dust, dirt or water can be present. The Triton camera measures only 29 x 29 mm and features threaded outer lens barrel for fitting an IP67 lens tube.
Also at display will be Lucid's own Arena Software Development Kit (SDK). Visitors at the Lucid booth will be able to try out and play with the ArenaView GUI. Based on the GenICam standard, ArenaView allows users to access and validate camera features quickly and easily through the GenICam XML based feature tree. The SDK supports Lucid's GigE Vision cameras on both Windows and Linux platforms.
Would you like to schedule an appointment to see our products up close and receive first-hand information? We look forward to seeing you at the Lucid booth #4411!