LUCID Newsletter 2019 Issue #7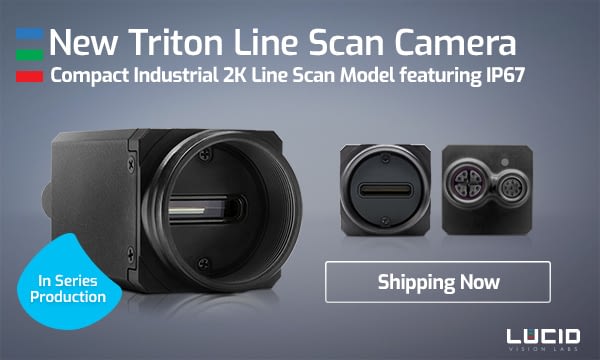 The Triton line scan camera is the newest addition to the Triton series, featuring the 2K AMS Dragster DR-2k-7 monochrome line scan sensor with a 7 μm pixel size and a resolution of 2048 x 1 at a line rate of 60 kHz. Additional features such as IP67 protection, a robust M12 Ethernet GPIO connector, Power over Ethernet (PoE) and a wide temperature range (0°C to 55°C ambient), ensure reliable operation in challenging industrial environments. The Triton line scan camera is ideal for a wide range of applications such as automated optical inspection, material sorting & grading, character recognition and pharmaceutical inspection. Learn more.
New Downloads
3rd Party Software Getting Started Guide: ROS for Linux

Robot Operating System (ROS) provides libraries and tools to help software developers create robotics applications. It provides hardware abstraction, device drivers, libraries, visualizers, message-passing, package management, and more. Read our Getting Started Guide.



Did You Know?
Did you know that all LUCID camera families have gone through standardized shock (DIN EN 60068-2-27) and vibration (DIN EN 60068-2-64, DIN EN 60068-2-6) testing?

These tests help confirm camera robustness in an industrial environment and are part of our overall commitment to high quality machine vision cameras.
Event Updates
ITE 2019 Yokohama
Visit us at the International Technical Exhibition on Image Technology and Equipment from Dec 4-6, 2019 in Yokohama. and see our newest products and live demonstrations. Read our ITE Show Preview and visit us at booth #D-18.

SPIE Photonics West LUCID will be exhibiting at SPIE Photonics West from Feb 4-6, 2020 in San Francisco. Find the latest research and products driving technology markets, and see our GigE Vision 2D and 3D cameras in booth #3164. Read more.

Automation World
LUCID will be exhibiting at Automation World from March 4-6, 2020 in Seoul, Korea. See the latest technology in smart factory applications, robotics, factory automation, IoT and embedded. Read more.

Webstore Orders Made Easy. LUCID offers the convenience of a webstore to easily purchase our full line of cameras and accessories from the Canada, USA, Australia, New Zealand, Israel, and EU. A future expansion of our webstore is planned to other countries as well. Stay tuned! Visit Our Webstore.