LUCID Newsletter 2019 Issue #6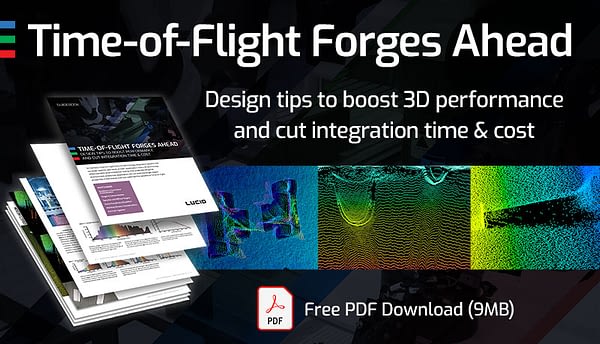 Have you wondered how to boost the performance of your 3D imaging application and at the same time cut your integration time and cost? Our newest hands-on guidebook describes how you can optimize the benefits of Time-of-Flight by considering various factors such as the environment of the application and the target object properties in the scene.

What's Inside: Outdoors vs Controlled Environments • Target & Camera Motion • Specular and Diffuse Targets • Scene Complexity Simplified • Working Distance Considerations • Put It All Together

Download Free Guidebook.
Featured Products
5GigE Atlas featuring 3rd gen Sony Pregius.
The 5GigE Atlas featuring the 2.8 MP and 7.1 MP 3rd gen Sony Pregius image sensors have entered mass production. Their 4.5 μm pixel size offers high saturation capacity, low read noise and a wide dynamic range. These new 5GBASE-T Atlas models reach frame rates up to 173 fps. Buy now! 2.8 MP ATL028S, 7.1 MP ATL071S.

Triton Line Scan Camera Coming in Q4 2019.
LUCID is expanding the Triton camera family with a new 2K line scan model featuring the Awaiba DR-2k-7 monochrome CMOS sensor. The Triton line scan camera offers IP67, active sensor alignment and robust M12 connectors at a competitive price point. The Triton line scan camera is scheduled to go into production in Q4 2019. To view pricing and preliminary specifications, check out our Triton line scan product page.

Phoenix FFC Extender Kits Now Available.
In addition to RJ45 and ix industrial connectors, the Phoenix camera offers additional flexibility with the FFC (Flat Flexible Cable) connection. The FFC connector combines both Ethernet and GPIO data into one. FFC extender kits are now available and include FFC to RJ45/JST and FFC to M12/JST extender boards and cable. FFC to RJ45/JST Extender Kit, FFC to M12/JST Extender Kit.
New Downloads
New Arena SDK Releases for Windows, Linux, ARM and Python.
The latest releases of our Arena SDK include enhanced software features for Windows (v1.0.20.4), Linux (v0.1.31.0), ARM (v0.1.18) and Python(v1.7.4) and are now available for download. Visit our Downloads Hub (registration / login required).
Event Updates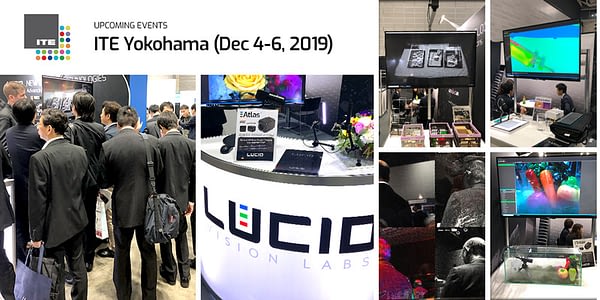 LUCID will be exhibiting for the 3rd time at ITE (International Technical Exhibition on Image Technology and Equipment) from Dec 4-6, 2019 in Yokohama. ITE is the largest Japanese exhibition of cutting-edge machine vision technology and LUCID will be unveiling some exciting new camera technology again this year. Don't miss it!

Webstore Orders Made Easy. LUCID offers the convenience of a webstore to easily purchase our full line of cameras and accessories from the Canada, USA, Australia, New Zealand, Israel, and EU. A future expansion of our webstore is planned to other countries as well. Stay tuned! Visit Our Webstore.