LUCID Newsletter 2019 Issue #5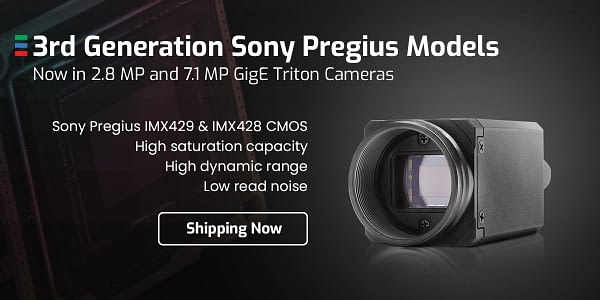 LUCID expanded its Triton camera family with two new models featuring 3rd gen Sony Pregius global shutter CMOS sensors. The new 2.8 MP and 7.1 MP Triton GigE Vision cameras use Sony's IMX429 and IMX428 image sensors. Their larger 4.5 μm pixel size offers a high saturation capacity of 25,000e-, low read noise of 2.5e- and a wider dynamic range of 72 dB compared to the 2nd gen Sony Pregius sensors, enabling a superior image acquisition under low light conditions. See EMVA 1288 data for 2.8 MP and 7.1 MP.
Featured Products
Color versions of Atlas 16.8 & 19.6 MP.
The color versions of the Sony Pregius IMX387 and IMX367 global shutter CMOS image sensors provide excellent performance and image quality for high-end optical inspection over 5GBASE-T. With a 4/3" format, these models are equipped with a TFL lens mount (M35 x 0.75) which can easily be adapted to F-mount and C-mount. Order now: ATL168S-CT, ATL196S-CT.

5GigE Atlas featuring 3rd Gen Sony Pregius.
The 2.8 MP and 7.1 MP 3rd generation Sony Pregius image sensors are now also becoming available on the higher speed 5GBASE-T Atlas camera series, reaching frame rates up to 173 fps. These new models will be entering mass production shortly and will be available for purchase early October 2019. Pre-order Models: ATL071S, ATL028S .

Triton Line Scan Camera in Q4 2019.
LUCID is expanding its Triton camera family with a 2K line scan model featuring the Awaiba DR-2k-7 monochrome CMOS sensor. The Triton line scan model offers IP67, active sensor alignment, robust connectors, in a compact 29 x 29 mm case at a competitive price point. If you are interested in our Triton line scan camera, please contact Sales.
New Downloads
Inspect Reflective Objects with a Virtual Polarization Filter.
With on-camera polarization processing, LUCID's polarization cameras can be used to create a virtual polarizer filter, which is useful for experimenting with different configurations without having to use physical filters. Read Use Case Tutorial.

Pattern Matching with Polarized DoLP Image in MVTec HALCON.
This new use case explains how to configure LUCID's polarization camera in MVTec HALCON to perform pattern matching on reflective objects such as metal. Read Use Case Tutorial.
Enhanced Software Visualization for Color Polarization.
Our ArenaView features flexible color mapping and control for different AoLP and DoLP ranges for enhanced image contrast. With the ability to process polarization information on-camera more efficiently, the ArenaView now also offers a new virtual polarization filter that mimics the presence of a polarizer filter in front of a regular camera. Visit our Downloads Hub (registration / login required).

Webstore Orders Made Easy. LUCID offers the convenience of a webstore to easily purchase our full line of cameras and accessories from the Canada, USA, Australia, New Zealand, Israel, and EU. A future expansion of our webstore is planned to other countries as well. Stay tuned! Visit Our Webstore.