LUCID Newsletter 2019 Issue #3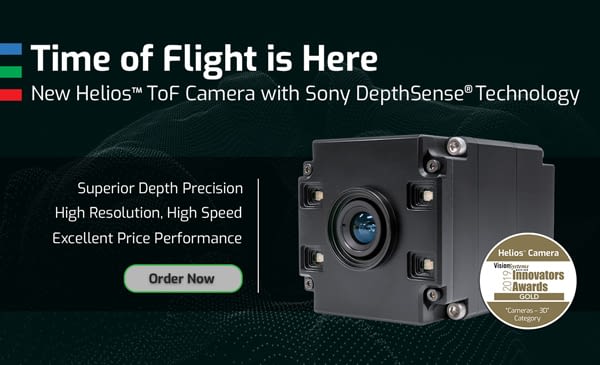 Helios is a compact Time of Flight (ToF) camera with superior depth precision featuring Sony's DepthSense technology. It utilizes four 850nm VCSEL laser diodes and leverages Sony's IMX556PLR back-illuminated ToF image sensor with high NIR sensitivity, 10μm pixel size and high modulation contrast ratio. The camera can produce depth data at 30 frames per second with 640×480 resolution over a Gigabit Ethernet interface. Learn more at the Helios product page and view our 3D sample files.
Featured Products
Helios Embedded.
At CVPR (June 18-20), LUCID will be showing its Helios Embedded ToF camera module for the first time. The module allows users to leverage a high-performance 3D Time of Flight camera on a cost-effective, compact embedded platform. It features Sony's advanced depth sensing ToF technology on an embedded board using the NVIDIA Jetson TX2. Read CVPR preview.

New Atlas Models: 16.8 MP & 19.6 MP
With the addition of two new Atlas models, LUCID has now completed the Atlas 5GBASE-T product line and is shipping all 5GigE models ranging from 5 MP to 31.4 MP. These new 4/3" Sony Pregius IMX367 and IMX387 provide excellent imaging performance and high sensitivity. The Atlas 16.8 MP is available for $3,950 and the 19.6 MP for $4,500 USD. Visit Atlas page.

3rd Generation Sony Pregius Sensors.
We're expanding the Triton camera series with the 3rd generation Sony Pregius sensors. These new sensors include the 2.8 MP Sony IMX429 and the 7.1 MP IMX428 featuring a larger pixel size of 4.5 µm and higher saturation capacity. Starting at $599, these new models will be available in Q3. Learn more about the Triton.
New Downloads
Multi-Camera Synchronization using PTP and Scheduled Action Commands.
Read our latest App Note about multi-camera synchronization using Precision Time Protocol (PTP) and Scheduled Action Commands. Read App Note.

Using GPIO on LUCID Cameras. Read our latest App Note to learn about using three different camera operation modes with our Arena SDK – stream mode, snapshot mode and trigger mode. Read App Note.

Using OpenCV with our Arena SDK on Windows and Linux. These manuals describe how to configure our GigE Vision cameras with OpenCV on Windows and Linux. OpenCV on Windows. Open CV on Linux.
Event Updates
UKIVA Recap
On June 6th, LUCID exhibited at the UKIVA Machine Vision Conference for the first time. Visitors were able to see our new Helios ToF camera featuring Sony's DepthSense technology as well as the 5GigE Atlas camera series ranging from 5.0 to 31.4 MP over 5GBASE-T.

CVPR
CVPR is the premier annual computer vision event providing exceptional value for academics, engineers and industry researchers. See LUCID from June 18-20, 2019 in Long Beach California, booth #946.

IAMD Shenzhen
The Integrated Automation, Motion & Drives show focuses on smart manufacturing, industrial robots, control systems, machine vision and IoT.See LUCID June 26-28, 2019 in Shenzhen, China in hall 4, booth 4.46.

Webstore Orders Made Easy. LUCID offers the convenience of a webstore to easily purchase our full line of cameras and accessories from the US, Canada, Australia and New Zealand. A future expansion of our webstore is planned to other countries as well. Stay tuned! Go to Webstore.