LUCID Newsletter 2019 Issue #2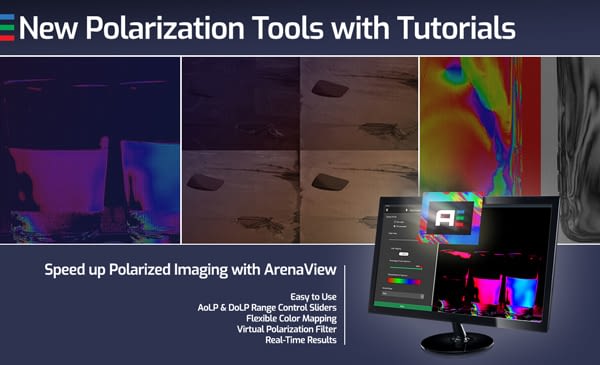 On-Camera Polarization Processing & Software Visualization Tools Now Available
In order to accelerate development for polarized imaging applications, LUCID has now released new firmware and software visualization tools. Enhanced features include on-camera polarization processing, new polarized pixel formats and polarized channel balancing controls. The ArenaView now offers flexible color mapping and control for different AoLP and DoLP ranges and a virtual polarization filter that mimics the presence of a polarizer filter in front of a regular camera. View tutorials for various polarization use cases and read our press release.
Featured Products
New Atlas Cameras Shipping Now.
In addition to the 31.4 MP, LUCID has expanded its 5GBASE-T Atlas camera series with the following new models: the 5.0 MP, 8.9 MP, and 12.3 MP models featuring Sony's Pregius global shutter CMOS sensors are now in full production. Learn more on our Atlas product page.

I2C Protocol for LUCID Cameras.
I2C (Inter-Integrated Circuit) feature is now available for our cameras. I2C is a serial communication protocol offering a simple, robust and inexpensive way to communicate between a control processor and peripheral devices. Read our App Note to learn more.

FFC Connector Variant for Phoenix Cameras.
LUCID has added an FFC connector option to the Phoenix 24x24mm camera. This design allows customers to extend the connector board and use the camera similar to a remote head device. Learn more about the various configuration options of our Phoenix.
New Downloads
| | | |
| --- | --- | --- |
| | | New Tech Brief on 5GBASE-T for Vision Systems. Read our latest Tech Brief and learn why 5GBASE-T is the sweet spot for high speed vision applications. Read Tech Brief. |
Company News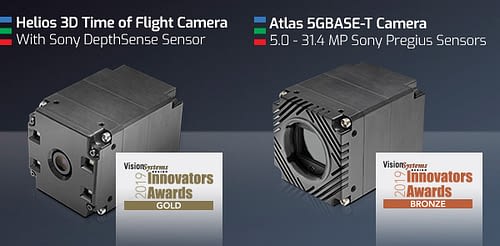 LUCID Wins Two VSD Innovators Awards. We are thrilled that two of our products have been recognized by the Vision Systems Design Innovators Awards program this year. We received a Gold-Level award for our Helios 3D ToF camera in the 3D Camera category, and a Bronze-Level award for our 5GBASE-T Atlas camera in the Visible Cameras category. Read more.
Upcoming Events
UKIVA Machine Vision Conference.
Over 50 seminars and exhibitors from the world's leading industrial vision companies are being presented at UKIVA. Come and see us on June 6, 2019 in Milton Keynes, UK, booth #47.

CVPR is the premier annual computer vision event providing exceptional value for academics, engineers and industry researchers. See LUCID from June 18-20, 2019 in Long Beach California, booth #946.

IAMD Shenzhen
The Integrated Automation, Motion & Drives show focuses on smart manufacturing, industrial robots, control systems, machine vision and IoT.See LUCID June 26-28, 2019 in Shenzhen, China in hall 4, booth 4.46.

Webstore Orders Made Easy. LUCID offers the convenience of a webstore to easily purchase our full line of cameras and accessories from the US, Canada, Australia and New Zealand. A future expansion of our webstore is planned to other countries as well. Stay tuned! Go to Webstore.