LUCID Newsletter 2021 Issue #9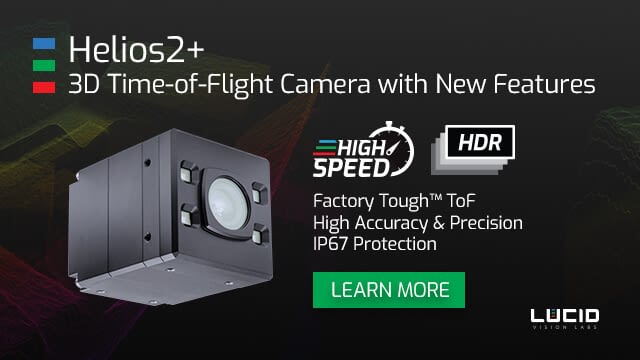 New Helios2+ Time-of-Flight Camera with On-Camera HDR & High Speed Features
The Helios2+ has all the same benefits of the Factory Tough™ Helios2 ToF camera but also includes two new on-camera depth processing modes: High Dynamic Range Mode and High Speed Mode.

The camera's HDR Mode combines multiple exposures in the phase domain to provide complete, accurate depth information in high contrast, complex scenes, containing both high and low reflectivity objects. The High Speed Mode enables depth perception using a single phase measurement, allowing for faster acquisition speed and higher frame rates compatible with moving object perception. The Helios2+ is 100% mechanically and electronically compatible with the Helios2, offering a seamless upgrade path for existing customers.
Quick Videos
Click to See New Helios2+ Modes
Helios2+ HDR Mode
See examples of the new HDR Mode in action. Play Video!

Helios2+ High Speed Mode
See new point clouds of the new High Speed Mode in action. Play Video!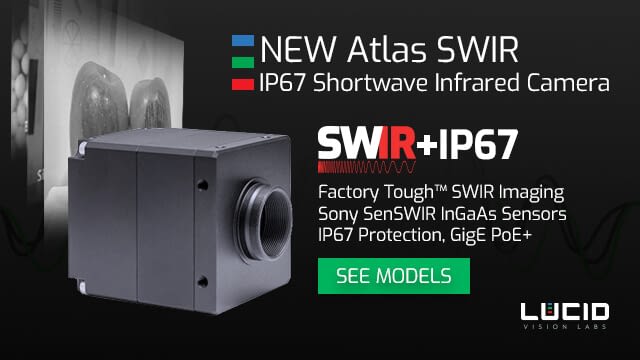 New IP67 Short Wave Infrared (SWIR) GigE PoE+ Camera
Introducing the new Atlas SWIR camera, featuring wide-band and high-sensitivity Sony SenSWIR 1.3 MP IMX990 and 0.3 MP IMX991 InGaAs sensors, capable of capturing images across both visible and invisible light spectrums, and boasting a miniaturized pixel size of 5μm. The Atlas SWIR is a compact Factory Tough™ camera offering IP67 protection and Power over Ethernet (PoE+), and is equipped with integrated single-stage sensor cooling (TEC1) for superior image quality over a wide operating temperature range.

The camera's capability of capturing on the short-wavelength infrared light spectrum opens up a world of industrial applications with greater precision in fruit inspection and sorting, IR microscopy, semiconductor inspection, material sorting and more.



Photo by Sony: Using differences in short-wavelength infrared light absorption rates for material sorting (left: visible light; right: short-wavelength infrared)
Event Updates
Vision China Shenzhen

Oct 28-30, 2021, Shenzhen - Together with our local distributor Speed Vision, we will be exhibiting at the upcoming Vision China Shenzhen trade show. We will be showcasing our latest Factory Tough™ cameras including the Helios2+ ToF as well as the Atlas 10 GigE and Atlas IP67 models featuring new Sony Pregius S sensors. Come and see us in booth #9H19.
InVision Tech Talk

Nov 2, 2021, 2PM EST, Online – In this InVision Tech Talk we will be presenting on Multi & Hyperspectral Imaging "SWIR", and introducing our new Atlas SWIR IP67 camera. Join us November 2nd, 2021 for a 25 minute presentation and Q&A.
ITE Yokohama 2021

Dec 1-3, 2021, Yokohama, Japan – We will be exhibiting this year at the International Technical Exhibition on Image Technology and Equipment, which introduces and popularizes new technologies to support automation in manufacturing. Visit our booth!