LUCID Newsletter 2021 Issue #10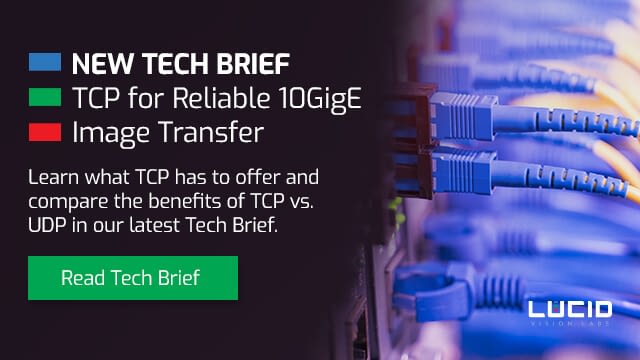 TCP for Reliable 10 GigE Image Transfer
TCP has arrived for industrial 10GigE cameras, offering a connection-oriented protocol for better flow control, packet resend, and packet coalescing allowing for guaranteed full frame delivery. While UDP has been the protocol used for GigE Vision cameras for its speed and low latency, TCP offers more reliability as bandwidth increases to 10GigE, especially for multi-10GigE camera applications. Review the benefits and challenges of both TCP and UDP in our latest Tech Brief.
Product Updates
Event-based Camera Debut at VISION

PROPHESEE earned this year's Vision Award in Stuttgart for its 3rd generation Metavision sensor. At VISION PROPHESEE also demonstrated a prototype of LUCID's event-based Triton GigE Vision camera with the Metavision sensor. Event-based vision opens up new industrial applications with significantly improved performance, lower power consumption and up to 1000 times fewer data produced than conventional sensors.
Atlas IP67 2.8 MP, 8.9 MP, 12.3 MP Models

New Atlas IP67 camera models featuring the Sony IMX421, IMX255 and IMX253 are now available to order. Our IP67 Atlas models offer ultra high resolution 5GigE performance with built-in IP67 protection for dust proof and water resistant operation.
Helios2+ ToF Camera - Shipping Now

New Helios2+ Time-of-Flight cameras are available for order, offering new on-camera features, including High Dynamic Range Mode and High Speed Mode.
NVIDIA AGX Xavier Support Added to Helios Flex ToF Module

The Helios Flex Kit now works with both Jetson AGX Xavier and TX2 development boards. The new part numbers are HLF003S-001JETUS1 / HLF003S-001JETEU1 and they supersede the existing part numbers. Helios Flex is a robust, pre-calibrated Time-of-Flight MIPI module which can easily be integrated into embedded platforms for industrial and robotics applications.
Resource Updates
Interactive 3D Point Clouds Helios2+

See the latest 3D point cloud samples of a car and wheel from the Helios2+ camera using "5m" High Dynamic Range Mode and a heat depth color overlay.
Quick Video
Helios2+ HDR Mode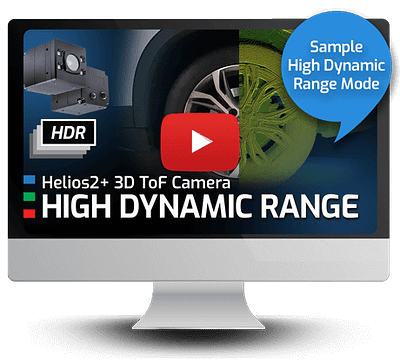 The Helios2+ on-camera HDR Mode combines the best data from manual
exposure times: 62.5, 200, and 1000µs into 1 depth frame, imaging
different materials with different reflective properties.
New Case Study: Time-of-Flight Camera Aids Robotic Palletizers

Learn how MSB Düren & Codesolo GmbH implemented an efficient and accurate automated palletizing system using the Helios2 3D Time-of-Flight camera.
Event Updates
Webinar - Hyperspectral & Multispectral Imaging

InVision Tech Talk - Nov 2, 2021 Join to see our presentation on Enhancing Your Industrial Application with LUCID's Factory Tough™ SWIR Camera. The webinar explains the extent to which Multi- & Hyperspectral Imaging can now also be used in industry.
Webinar - Increase efficiency in Robotics with Helios2 Time-of-Flight Camera

VSD Tech Summit - Nov 4, 2021 We will give a 25 minute presentation on how ToF can bring benefits to your robot vision system by reducing 3D application costs, increasing productivity and making applications more efficient.
Trade Show - ITE Yokohama 2021

Dec 1-3, 2021, Yokohama, Japan – We will be exhibiting this year at the International Technical Exhibition on Image Technology and Equipment, which introduces and popularizes new technologies to support automation in manufacturing. Visit our booth!
| | |
| --- | --- |
| | Follow us on Linkedin and Youtube for more of the latest updates on technological innovations & resources by the LUCID Vision Labs team. |
| | |
| --- | --- |
| | Webstore Orders Made Easy. LUCID offers the convenience of a webstore to easily purchase our full line of cameras and accessories from the US, Canada, EU, Australia, and New Zealand. A future expansion of our webstore is planned to other countries as well. Stay tuned! Visit Our Webstore. |