LUCID Newsletter 2020 Issue #3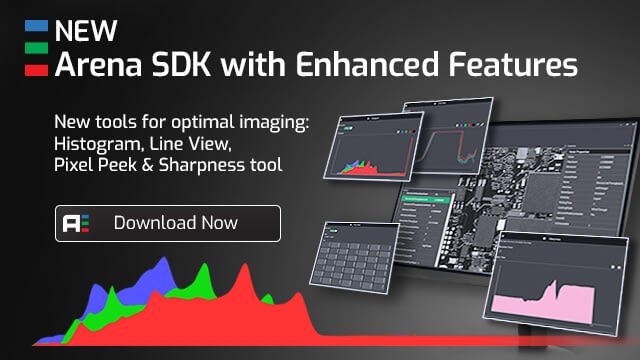 New Version of Arena SDK with Enhanced Features
We're pleased to announce that ArenaView's latest release includes tools designed to help determine settings and ensure image integrity. View Histogram, Line View, and Pixel Peek information to dive deep into live display data, use the new Sharpness tool to find optimal lens focus, or determine and mark hot and dead pixels (pixels either too instense or dim) using the new Lazy Pixels tool, all right from within ArenaView. Download the latest Arena SDK (v.1.0.24.7).
EU Webstore Orders Made Easy
We're pleased to announce that we've expanded our webstore to European customers and are now accepting Euros for webstore orders. In addition to US, Canada, Australia and New Zealand, now our European customers also have the convenience to easily purchase our full line of cameras and accessories via our webstore. This includes:
Easy account registration
Quick product filter & selection
Secure credit card payments
Fast order fulfillment & shipping
To view and order products in Euros, please change your billing address in "My Account" or at the checkout page. Visit our webstore today!
New Tech Brief
4th Generation Sony Pregius S – The Next Evolution
of Image Sensors?
| | |
| --- | --- |
| | With a smaller pixel size combined with backside illuminated technology, Sony was able to increase resolutions within compact sensor sizes without sacrificing imaging quality in their new line of 4th gen Pregius S image sensors. But do these latest sensors mean you should disregard previous generations? Take a deep dive and discover the strengths of each sensor generation. Read our latest Tech Brief. |
Company News
Dear Customers and Partners,

We would like to give you a brief update on how COVID-19 is affecting LUCID Vision Labs.

For the past week, any employee who can possibly work remotely has been working from home. We are continuing to provide timely support to our customers and develop exciting new products. We have also taken all appropriate measures to minimize the risk to our employees who are maintaining essential operations and production.

We have been in constant communication with our suppliers to maintain sufficient inventory and avoid any supply disruptions. At this moment, we don't expect any impact on our ability to build and ship products to our customers.

We will be sure to update you if any of the circumstances change. If you have questions, please do not hesitate to contact us.

The LUCID Team
| | |
| --- | --- |
| | Find our latest camera models and accessories by using our product selector. Choose through camera models, cables, lenses, and more. Filter products by resolution, interface, pixel size, sensor models. Browse products. |