LUCID Newsletter 2020 Issue #12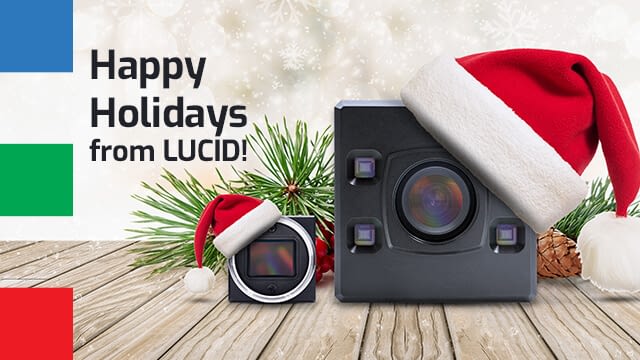 The LUCID team would like to extend a heartfelt thank you for your support through a year full of surprises and global challenges. We feel very grateful that machine vision continues to prosper as an industry and our company can continue to innovate. This year we rolled out several new products and grew our talent. Below is a collection of product highlights and top resources from LUCID in 2020.



Our warmest wishes for the Holiday Season and the New Year!
Holiday Office Closure
Please note that our office will be closed from Dec 24th until Jan 3rd, 2021. Any webstore orders placed during this time will be processed and shipped on Jan 4th, 2021.
2020 Year-End Product Review
Helios2
3D imaging got even better this year with the next generation of Time of Flight! Helios2 offers significant advancements from the previous model and a robust design with IP67-rated enclosure and lens protection, making it a true Factory Tough™ 3D ToF camera. Learn more.

Atlas10
In 2020 we launched the new Atlas10 10GigE camera series, featuring Sony's 4th Gen Pregius S CMOS sensors, capable of 1.2Gb/s bandwidth over 10GBASE-T PoE – a new level of imaging performance for high speed applications. New models include the IMX530, IMX531, and IMX532 sensors. Learn more.

Triton
The Triton camera family welcomed new models featuring Sony's 4th Gen Pregius S CMOS sensors including the IMX540 (24.5 MP), IMX541 (20.4 MP), and IMX542 (16.2 MP). The 4th Gen Triton cameras provide even higher resolution and faster frame rates in a compact 29x29 mm size. Learn more.
Phoenix
This year Phoenix got even more flexible with a new extended head configuration. A Flex cable connection allows more customization in applications with tight space constraints or unique orientations. If you're interested in further customization contact our sales team.

Arena SDK
ArenaView's 2020 updates included enhanced tools designed to ensure image integrity, including features for diving deep into live display data, support for Helios2+Triton 3D Color Kit for RGB point clouds, IMX490 sensor support, and Robot O/S support through GitHub. Download Arena SDK (v.1.0.28.3).

HeliosFlex
Helios™Flex is a robust, pre-calibrated Time-of-Flight MIPI module which connects to an embedded system using the NVIDIA® Jetson™ TX2 and delivers 640 x 480 depth resolution at up to 6 meters distance. This year the Helios Flex was recognized with Vision Systems Design's Innovation Award. Learn more.
Top 3 Resources of 2020
Video - Helios2 Time of Flight 3D Camera

Our top video this year introduced the Helios2 next generation Time of Flight camera. Learn how LUCID engineers maximized ToF performance of Sony's IMX556PLR DepthSense sensor, making a ToF camera with improved accuracy and sub-millimeter precision. Watch video.
White Paper - The Factory Tough™ Camera

Not all machine vision cameras are built to withstand tough industrial environments; only a camera that has met certain criteria and standards is truly ready for 24/7 operation in conditions like wide ranging temperatures, vibrating machinery, dust, moisture, and electromagnetic noise. Read White Paper.
Tech Brief – Comparing Sony Sensor Generations

Is the 4th Generation Sony Pregius S the next evolution of image sensors? Each Pregius sensor generation offers improvements from the previous one, but which one should you choose for your application? We took a deep dive into Sony's sensor generations to discover the strengths of each. See comparison charts on frame rate, resolutions, pixel size, & more Read tech brief.
| | |
| --- | --- |
| | Follow us on LinkedIn and YouTube for more of the latest updates on technological innovations & resources by the LUCID Vision Labs team. |
| | |
| --- | --- |
| | Webstore Orders Made Easy. LUCID offers the convenience of a webstore to easily purchase our full line of cameras and accessories from the US, Canada, EU, Australia, and New Zealand. A future expansion of our webstore is planned to other countries as well. Stay tuned! Visit Our Webstore. |