LUCID Newsletter 2020 Issue #1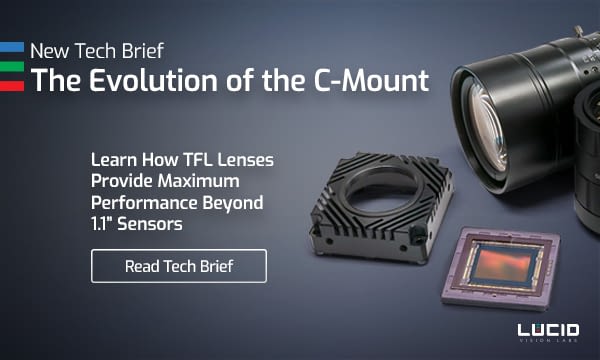 New Tech Brief on TFL Lenses – Maximum Optical Performance Beyond 1.1" Sensors
More and more industrial sensors are growing beyond 1.1" form factor size thanks to increased resolutions. In addition, pixels are getting smaller, making the sensor more sensitive to optical path tolerances. To match these growing sensor trends, TFL-mount brings a standardized, compact, high performance design specifically targeted for APS-C and 4/3" sensors. Read Tech Brief.
Featured Products
Helios Flex ToF module coming in Q1 2020.
Helios Flex is a robust, pre-calibrated Time-of-Flight MIPI module which can easily be integrated into embedded platforms for industrial and robotics applications. The module features Sony's DepthSense IMX556PLR back-illuminated ToF sensor on an embedded board using the NVIDIA Jetson TX2. Find out more.

Atlas10 10GigE + PoE coming in Q2 2020.
The perfect combination is coming – a fast 10 GigE with PoE paired with Sony's 4th gen Pregius S CMOS sensors. The Atlas10 improves simplicity and brings performance for high speed applications to new levels. The first Atlas10 model will feature the 24.5 MP Sony Pregius S IMX530 global shutter CMOS – available in Q2 2020. See EMVA1288 data.

Right angle M12/M8 cables available now.
LUCID added right angle M12 and M8 cables to its accessories portfolio. These new cables come in 5m and 15m lengths providing two right angle orientations (90-degree up/ down) for each length. They are compatible with the Triton, Atlas and Helios cameras. View cable options.
Did You Know?
Did you know what makes the Sony Pregius S CMOS sensors special compared to previous generation Pregius sensors?
Sony Pregius S image sensors are backside-illuminated, meaning the wiring layer is below the photo diode which removes obstructions and increases light collection. These sensors are also global shutter, enabling distortion-free imaging. It is the first time Sony has combined both backside-illuminated technology with high speed global shutter CMOS performance. Learn more.
Event Updates
SPIE Photonics West
Only a few days until SPIE Photonics West (Feb 4-6, 2020) in San Francisco. Read our show preview of our product highlights in our booth. Come and see us in booth #3164.

Automation World LUCID will be exhibiting at Automation World from March 4-6, 2020 in Seoul, Korea. See the latest technology in smart factory applications, robotics, factory automation, IoT and embedded. Read more.

Vision China Shanghai
Come and see LUCID from March 18-20, 2020 at Vision China Shanghai, the no. 1 machine vision show in China. We will showcase new camera technologies in booth #5502. Read more.

Webstore Orders Made Easy. LUCID offers the convenience of a webstore to easily purchase our full line of cameras and accessories from the US, Canada, Australia, and New Zealand. A future expansion of our webstore is planned to other countries as well. Stay tuned! Visit Our Webstore.