Richmond, BC, Canada – September 26, 2018 – LUCID Vision Labs, Inc., a designer and manufacturer of unique and innovative industrial vision cameras, today announced the availability of its Triton™ GigE Vision camera line.
The Triton camera sets a new price performance standard in the industrial camera market. Active Sensor Alignment for superior optical performance, a lightweight, compact 29 x 29 mm size, and IP67 protection make the Triton camera suitable for any industrial environment. The M12 Ethernet and M8 I/O connectors provide a robust connection resistant to shock and vibration and are protected from dirt, dust, and water. By adding an optional IP67 sealed lens tube, the Triton can operate in harsh environments without the need for bulky enclosures. All Triton cameras are actively aligned to minimize image sensor tilt and rotation, and to precisely position the image sensor to the lens mount for sharp, crisp images, even in the corners.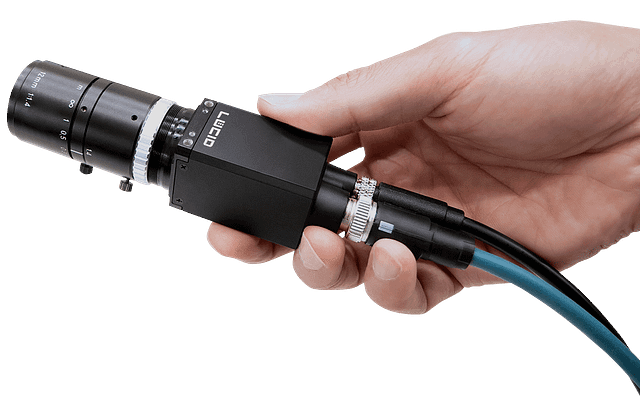 "Industrial camera requirements have evolved over the years and a wide range of applications now require more robust, compact and cost-effective solutions," says Rod Barman, Founder and President at LUCID Vision Labs. "Packed into a compact 29 x 29 mm size, the Triton camera features a rugged, industrial design for long-term reliability and is available at a very attractive price point."
The GigE Vision and GenICam compliant Triton camera ranges from 0.4 MP to 20 MP including the 5 MP Sony IMX250MZR/MYR polarized, 12.3 MP Sony IMX304 global shutter CMOS, and 20 MP Sony IMX183 rolling shutter CMOS image sensors.
All LUCID cameras conform to the GigE Vision 2.0 and GenICam3 standards and are supported by LUCID's own Arena software development kit. The Arena SDK provides customers with easy access to the latest industry standards and software technology.