LUCID Newsletter 2021 Issue #3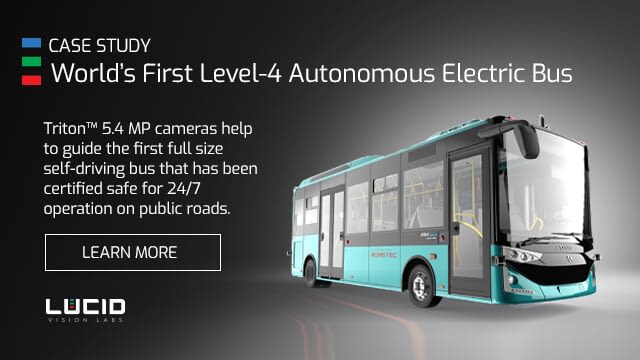 World's First Level-4 Autonomous Electric Bus Uses
Triton Cameras with flowride.ai
A 100% electrically powered, self-driving bus has been declared road-worthy for the highways and streets of Europe and the USA. Developed by California-based tech company ADASTEC, and one of Turkey's leading automotive manufacturers, the bus is the first Level-4 self-driving electric bus in its segment.
| | |
| --- | --- |
| | ADASTEC's automated transportation platform, flowride.ai, uses LUCID's 5.4 MP Triton cameras featuring Sony's IMX490 backside illuminated CMOS sensors with 120dB of dynamic range and LED flicker mitigation. The Triton camera captures all scene detail in both bright and dark imaging conditions and allows ADAS algorithms to make safe autonomous driving decisions. |
Product Updates
Upcoming IP67 Atlas 5G Models

The Atlas 5G camera family will be expanding with IP67 models with the Atlas ATP 5GBASE-T product line and will feature a range of popular global and rolling shutter sensors. The camera size will be slightly wider than the regular non-IP67 version measuring 60mm x 60mm. First models will be available at the end of Q2 and will include the 7.1 MP featuring the Sony IMX420 and the 20 MP with the IMX183 sensor running at 17 fps.
New TFL-Mount APS-C 35mm f/2.8 Lens

We've added Edmund Optics TECHSPEC® CA (Compact APS) Series Fixed Focal Length Lenses which are designed for high resolution large format sensors. These lenses feature a TFL Mount that has a M35 x 0.75 thread with a 17.5mm flange distance, offering the same flange distance, robustness, and ease of use as a C-Mount.
ArenaView Maintenance Updates

ArenaView has some fixes and improvements including incorporating the latest release of GenICam for Windows and Linux, new driver performance improvements, on Linux added support for multiple IPs on a single Ethernet MAC, some Helios UI improvements, new Qt cross platform UI development toolkit Examples Solution, and multicast support that allows one stream to cast to multiple locations. *Available next week for download*
New Video
New Video:
What makes a Camera Factory Tough?

Why is the Triton called a "Factory Tough" camera? In this video we'll go over the Triton's specifications and dig a little deeper into some of the important details on how the Triton was tested and certified against common hazards in an industrial environment.
Event Updates
Vision China Shanghai - Recap

We had a busy few days at this year's Vision China Shanghai show. On display were our Helios2 ToF camera, Triton camera feat. the IMX490 HDR sensor, Atlas10 10GBASE-T camera, and new polarization camera models feat. Sony IMX264MZR/MYR sensors.
| | |
| --- | --- |
| | Follow us on Linkedin and Youtube for more of the latest updates on technological innovations & resources by the LUCID Vision Labs team. |
| | |
| --- | --- |
| | Webstore Orders Made Easy. LUCID offers the convenience of a webstore to easily purchase our full line of cameras and accessories from the US, Canada, EU, Australia, and New Zealand. A future expansion of our webstore is planned to other countries as well. Stay tuned! Visit Our Webstore. |