LUCID Newsletter 2021 Issue #12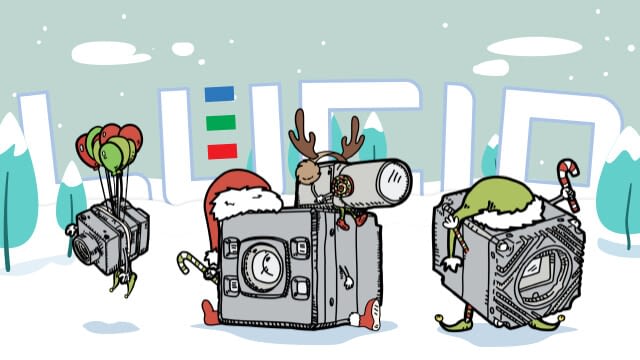 Wishing You a Happy Holiday Season!
This coming January will mark LUCID's five-year anniversary since our founding back in 2017. We have accomplished a lot over the past five years but 2021 was special with the growth of our talented team, a major office expansion and the introduction of many new innovative cameras. Below is a collection of product highlights and a few top resources from this year.



Thank you to our customers, partners, and employees for all your support in 2021! From everyone at LUCID we wish you all the best for the Holidays and a Happy New Year!
Holiday Office Closure
Please note that our offices will be closed from the following dates:
HQ/ Canada: Dec 24th until Jan 3rd, 2022
Germany: Dec 24th until Jan 3rd, 2022
China: Dec 24th until Jan 3rd, 2022
Japan: Dec 29th until Jan 3rd, 2022
Any webstore orders placed during this time will be processed on Jan 4th, 2022.


2021 Year-End Product Review
Helios2+
The Helios2+ Camera has further advanced Time-of-Flight imaging with new on-camera depth processing modes, including HDR Mode and High Speed Mode. The Helios2+ share the same Fatory Tough industrial build as the Helios2 camera, and offers a seamless upgrade path for customers. Learn more

Atlas IP67
The 5GBASE-T Atlas IP67 camera features a range of popular global and rolling shutter sensors with built-in IP67 protection. This camera offers high resolutions and fast frame rates with Power over Ethernet up to 100m, and ranges from 2.8 MP to 24.5 MP resolution.

Learn more

Atlas SWIR
This year we introduced the Atlas SWIR IP67 camera which features wide-band and high-sensitivity Sony SenSWIR 1.3 MP IMX990 and 0.3 MP IMX991 InGaAs sensors, capable of capturing images across both visible and invisible light spectrums. Learn more
Triton Camera
We've added new Triton 4th Generation Pregius models featuring the IMX547 (5.0 MP), IMX546 (8.1 MP), and IMX545 (12.3 MP) sensors, delivering superior quality imaging thanks to Sony's proprietary back-illuminated pixel structure. Triton GigE cameras are IP67 ready and available to order. Learn More

Phoenix Camera
The super compact Phoenix camera welcomed additional models with 4th Gen Sony Pregius S CMOS sensors. The Phoenix is a 24x24mm or 28x28mm GigE camera module with a unique transformable design for easy OEM integration. Learn More

VSD Innovators Award
The Helios2 Time of Flight camera was recognized with a VSD Innovators Award this year in the '3D Camera' category. The Helios2 is built Factory Tough™ with IP67 protection and achieves high accuracy with sub-millimeter precision. Learn more
Top 3 Resources of 2021
Product Videos & Quick Tips

We've added several videos covering our products including the Phoenix, Triton, Atlas, and Helios2 cameras, taking a deeper look at the design and applications of each camera. We also offered handy Quick Videos on the new Helios2+ on-camera depth processing modes, featuring live point cloud examples of each mode in action, comparing depth data to that of Helios2. Visit Video Hub
Tech Brief - TCP for 10GigE Cameras

TCP has arrived for industrial 10GigE cameras. Review the benefits and challenges in this Tech Brief and learn that while UDP has been the protocol used for GigE Vision cameras for its speed and low latency, TCP offers more reliability as bandwidth increases to 10GigE, especially for multi-10GigE camera applications. Read Tech Brief
Case Study - First Fully Autonomous Bus

This year the world's first 100% electrically powered, self-driving bus has been declared road-worthy. The bus's automated transportation platform uses LUCID's 5.4 MP Triton cameras featuring Sony's IMX490 CMOS sensors with 120dB of dynamic range and LED flicker mitigation, able to capture scene detail in both bright and dark imaging conditions, which allows ADAS algorithms to make safe autonomous driving decisions. Read Case Study
| | |
| --- | --- |
| | Follow us on LinkedIn and YouTube for more of the latest updates on technological innovations & resources by the LUCID Vision Labs team. |
| | |
| --- | --- |
| | Webstore Orders Made Easy. LUCID offers the convenience of a webstore to easily purchase our full line of cameras and accessories from the US, Canada, EU, Australia, and New Zealand. A future expansion of our webstore is planned to other countries as well. Stay tuned! Visit Our Webstore. |