LUCID Newsletter 2020 Issue #9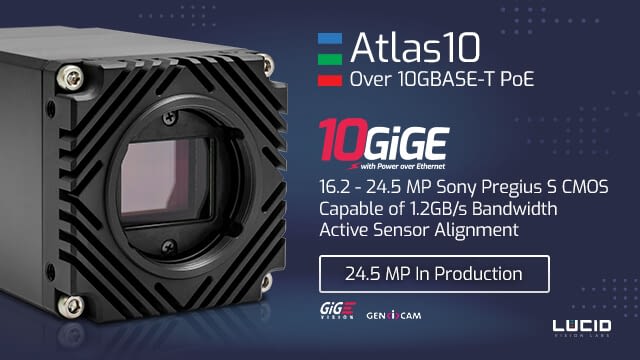 NEW Atlas10 High Speed Camera
with Sony 4th Gen Pregius S Sensors
The new Atlas10 camera features Sony's 4th Gen Pregius S CMOS sensors, capable of 1.2Gb/s bandwidth over 10GBASE-T PoE and delivering a new level of imaging performance for high speed applications. Sony's proprietary back-illuminated pixel structure enables a reduction in pixel size to 2.74 μm while still maintaining excellent image quality compared to previous Sony Pregius generations. The first model in the Atlas10 camera series has the 24.5 MP Sony Pregius S IMX530 global shutter 4/3" image sensor, which offers up to 51 frames per second at full resolution. Subsequent models include the 20.4 MP featuring the IMX531 and the 16.2 MP featuring the IMX532. The 24.5 MP Atlas10 is now available for order.
Product Updates
Helios2 Imaging Performance Chart

The new Helios2 3D Time of Flight camera has entered series production. Check out the interactive spec chart featuring its accuracy and precision measurements. The Helios2 provides 3D depth data with sub-millimeter precision and features a robust IP67-rated enclosure with lens protection. It has a GigE Vision interface, PoE, and rugged M12 connectors up to 100m. Learn more on our site about the Helios2 and how it compares to our original Helios model, See Helios2 Full Specs.
Triton Camera Models Featuring 4th Gen Pregius Sensors

The Triton camera family welcomes new models featuring Sony's 4th Gen Pregius S sensors. These upcoming models include the IMX540 (24.5 MP), IMX541 (20.4 MP), and IMX542 (16.2 MP) global shutter CMOS image sensors. Sony's 4th Gen sensors increase resolutions within compact sensor sizes without sacrificing image quality, meaning Triton cameras can provide even higher resolution and faster frame rates in a compact 29x29 mm size. Learn More.
Helios2 Interactive Point Cloud Samples


New Helios2 3D models are up on our site. Click and drag to see the latest point clouds from Helios2, which has 2.5 times more light transmission than the previous model, as well as over 50% better 3D precision with a maximum working distance of 8.3 meters. See Interactive Point Clouds.
New Resources
3rd Party Software Guide:
NorPix StreamPix

Users can capture from multiple cameras and frame grabbers with Norpix StreamPix, a high-speed digital recording software for machine vision and scientific cameras. Check out our latest 3rd Party Software Guide for step-by-step instructions.
Support Site Available

The new LUCID Support Center website is here to help you while you get your camera up and running. Create a support ticket, access helpful articles, getting started guides, application notes and more.
Visit support site.
Did You Know?
Did you know that the IMX531 has a square (1:1) aspect ratio?


Each Sony Pregius-S sensor has a unique aspect ratio, and will suit various applications accordingly. View our aspect ratio & sensor chart and see how it compares to previous sensor generations in our latest Tech Brief on Sony Sensor Generations.
Event Update
Automation Taipei
LUCID will be exhibiting along with our local distributor VST Taiwan Ltd. from Aug 19 – Aug 22. For 30 years, the Automation Taipei trade show has promoted the latest products for Industrial Automation, Robot Technology, Machine Tools & Machinery, Factory Equipment and more. LUCID will be showcasing the newest Helios2 ToF camera, the Atlas10, and the latest Triton models. Visit us in booth# K616.
| | |
| --- | --- |
| | Webstore Orders Made Easy. LUCID offers the convenience of a webstore to easily purchase our full line of cameras and accessories from the US, Canada, EU, Australia, and New Zealand. A future expansion of our webstore is planned to other countries as well. Stay tuned! Visit Our Webstore. |