LUCID Newsletter 2020 Issue #5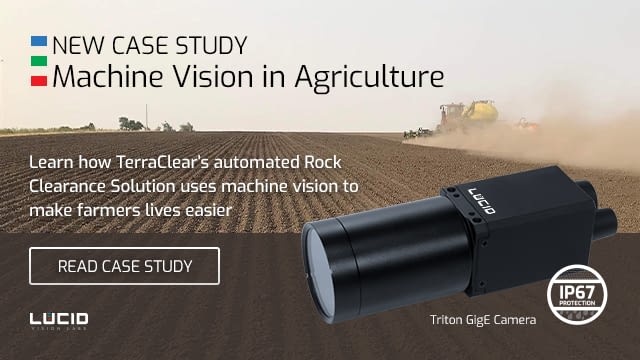 Triton Cameras in Agriculture
Case Study: TerraClear's Rock-Picking Robot
TerraClear is developing an end-to-end Rock Clearance Solution, which aims to save both time and money for farmers by locating and removing the rocks that rise annually from soil due to weather and tillage. This rock-picking robot uses a computer-vision controlled system, in which LUCID's Triton 2.3 MP IP67 camera helps to identify the size and location of rocks embedded in farm fields. For a better look at how the Triton GigE camera is integrated into TerraClear's system, read our Case Study.
Product Updates
New Triton featuring Sony IMX490 Sensor

LUCID is introducing a new 5.4 MP Triton model featuring the Sony IMX490 color sensor. The IMX490 back-illuminated stacked CMOS image sensor offers 3x higher dynamic range than conventional sensors. Its excellent HDR and LED flicker mitigation enables wide-angle imaging for autonomous driving. This new Triton model will enter mass production in July 2020. Learn more. Learn more.
New Triton 0.5 MP IMX433 3rd Gen Pregius

A new 0.5 MP Triton model has been added to the Triton family featuring the Sony IMX433 Pregius global shutter sensor. It is available in C-mount color and mono. The IMX433 is a great replacement for ICX414 cameras, which have been discontinued. For camera specs and price, visit the Triton product page.
New App Note
Helios 3D Point Cloud with RGB Color


Our latest App Note explains how to overlay the Helios ToF camera's point cloud data onto RGB data from a Triton color camera to get a colored point cloud. Using OpenCV software, it is possible to position and calibrate the Helios and Triton cameras together, and then combine image data by projecting 3D point onto an RGB image. The result is a point cloud seen in RGB colors more closely representing the actual scene. Read App Note.

Image: 3D point cloud with RGB color overlay
Event Updates
UKIVA Machine Vision Conference The UKIVA Machine Vision Conference is now live. See presentations from world-leading industrial vision companies in various technology hubs. Watch LUCID's presentation in the 3D Vision hub titled "Time-of-Flight (ToF) Design Tips: Tips to Boost 3D Performance and Cut Integration Time & Cost". Watch now.

AIA Vision Week 2020 Starting May 18, 2020, AIA is providing vision education in a virtual conference format. Get connected to vision suppliers from virtual booths. LUCID will showcase its Helios 3D ToF camera, Atlas 5GigE camera, and Triton GigE IP67 camera. Learn more about AIA Vision Week.

InVision Virtual Tradeshow
Different times and challenges need new ideas. inVision has introduced this new virtual exhibition where companies present their latest innovations over a virtual additional channel. The fair takes place from May 19 to June 15, 2020. Check out LUCID's virtual booth.
Vision China Shanghai
LUCID will be exhibiting from July 3-5, at Vision China Shanghai, the no. 1 machine vision show in China which showcases the industry's core components and parts. One of LUCID's Field Application Engineers, Felix Ye, will be holding a seminar titled "TOF 3D applications and super speed 10G PoE cameras in the industrial field". See our new camera technologies in booth 7.1E201.



| | |
| --- | --- |
| | Webstore Orders Made Easy. LUCID offers the convenience of a webstore to easily purchase our full line of cameras and accessories from the US, Canada, EU, Australia, and New Zealand. A future expansion of our webstore is planned to other countries as well. Stay tuned! Visit Our Webstore. |