LUCID Newsletter 2020 Issue #11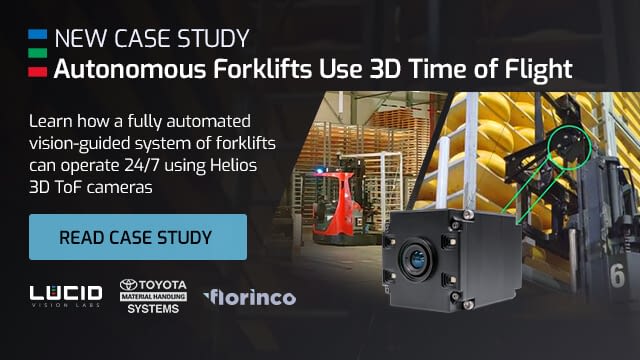 New Case Study:
Autonomous Forklifts Increase Efficiency in Cheese Warehouse Operations
Our latest case study explains how Florinco has met the challenge of specular reflection from metal racks, integrating LUCID's Helios time of flight cameras into their 3D vision-guided autonomous forklifts. The forklifts, provided by Toyota Material Handling, stack and de-stack cheese boxes 24/7, moving them between ripening halls and position the boxes with accuracy regardless of shiny metal edges on the racks. This system ultimately increases warehouse productivity and efficiency. To learn more read the Case Study and watch the video.
Product Updates
In Production


Atlas10 16.2 and 20.4 MP

Two new Atlas10 models featuring 10GBASE-T GigE PoE are now in production and ready to order. Atlas10 IMX531 (20.4 MP) and IMX532 (16.2 MP) models deliver a new level of imaging performance thanks to Sony's proprietary back-illuminated pixel structure which enables excellent image quality at high resolutions and fast frame rates. Visit our Atlas10 product page.
Customized Extended Head for the Phoenix Camera Module

For the flexible Phoenix camera module, LUCID has designed unique custom extended heads paired with an ix Industrial® Ethernet connector to meet the challenging space restrictions in one of our customer's vision systems. The image to the left shows a Phoenix head module which has a customized shape and form factor for a specific mechanical design.To find out how Phoenix can meet your unique design challenge contact our sales team.
New Compact C-mount Lenses

We've added new Universe Optics lenses, which come in a compact size about 33% smaller than other C-mount lenses, offering up to 50% weight reduction while maintaining the same imaging performance. These compact lenses are compatible with our small IP67 lens tube (33mm outside diameter). When paired with the Phoenix or Triton camera, the overall cross section is within the camera's height and width dimensions and maintains its compactness. Visit lens product page.
New Resources
New KB Article
Enabling Jumbo Frames on Raspberry Pi

Enabling Jumbo Frames is necessary to unlock the full performance of LUCID cameras, however doing so on a Raspberry Pi involves recompiling the kernel. This knowledge base article demonstrates how to enable Jumbo Frames on the Raspberry Pi 3 or 4. Read more from our Knowledge Base.
Event Updates
ITE Yokohama
From Dec 2-4, 2020 the International Technical Exhibition on Image Technology and Equipment (ITE) will take place in Yokohama, Japan. LUCID will be exhibiting again and bringing its latest machine vision cameras to the show floor including the new Helios2 Time-of-Flight and Atlas10 cameras featuring the 4th generation Sony Pregius S sensors. Learn more.
| | |
| --- | --- |
| | Follow us on LinkedIn and YouTube for more of the latest updates on technological innovations & resources by the LUCID Vision Labs team. |
| | |
| --- | --- |
| | Webstore Orders Made Easy. LUCID offers the convenience of a webstore to easily purchase our full line of cameras and accessories from the US, Canada, EU, Australia, and New Zealand. A future expansion of our webstore is planned to other countries as well. Stay tuned! Visit Our Webstore. |