Download White Paper
The Factory Tough™ Camera. Designed and Built for Industrial Use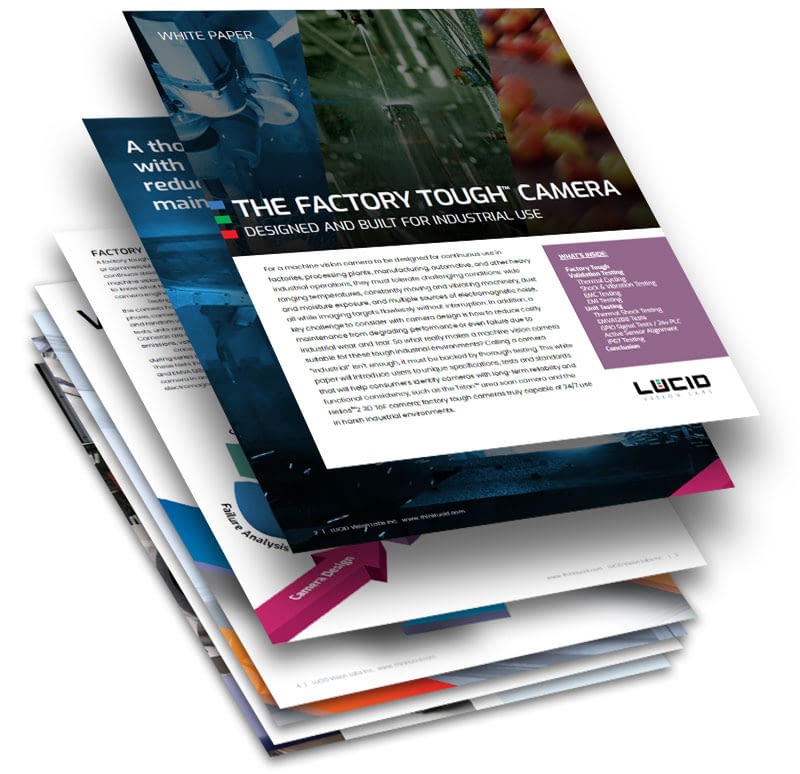 For a machine vision camera to be designed for continuous use in factories, processing plants, manufacturing, automotive, and other heavy industrial operations, they must tolerate challenging conditions: wide ranging temperatures, constantly moving and vibrating machinery, dust and moisture exposure, and multiple sources of electromagnetic noise, all while imaging targets flawlessly without interruption. In addition, a key challenge to consider with camera design is how to reduce costly maintenance from degrading performance or even failure due to industrial wear and tear. In this white paper, learn the specifications and testing certifications that makes a machine vision camera suitable for these tough industrial environments.
What's Inside:
• Factory Tough
• Validation Testing
– Thermal Cycling
– Shock & Vibration Testing
– EMC Testing
– EMI Testing
• Unit Testing
– Thermal Shock Testing
– EMVA1288 Tests
– GPIO Signal Tests / 24v PLC
– Active Sensor Alignment
– IP67 Testing
The Factory Tough Camera White Paper – Free Download
After clicking "submit" a download link will be provided.